Joined

Jan 27, 2010
Messages

2,725
Location
This is the sales thread for the 25A driver I've been building, which has been discussed here:


http://www.candlepowerforums.com/vb/showthread.php?393212-Feeler-thread-0-25A-adjustable-linear-driver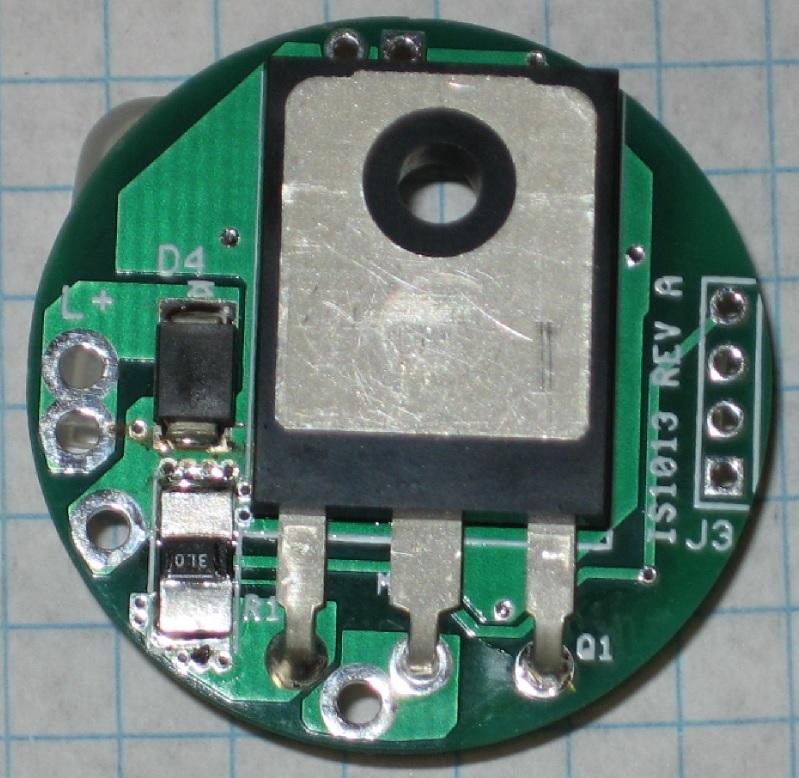 For those who haven't been following, this driver has high/low/off modes controlled not by a pushbutton or clicky, but by a toggle switch. By connecting the H terminal to C, you get high, and by connecting L to C you get low. Disconnect both and you have OFF. The driver draws about 12 mA in off mode. This could be eliminated by using a double-pole switch.
The high and low settings can be reduced by adding a series resistor in the appropriate control line. This resistor does not carry the LED current, so it can be very small, or even a potentiometer (I've found that 50K linear taper works best, and gives zero to full scale output control. For those who can solder small surface mount components, you can change the settings by changing on-board resistors.
The maximum output can be adjusted using an on-board potentiometer. This pot should not be used frequently for dimming, as it is designed for 100 operations.


The driver is available in a 'single-cell' version, with input voltage from 3.0-5.5V, and a 'multi-cell' version, with input voltage from 3.5-35V. The single-cell is intended for lights using a single LiIon cell, while the multi-cell version is for use with 2-8 LiIon cells or 4-16 NiMH cells. Either voltage is available with 0-10A, 0-16.7A, or 0-25A adjustable output.
PLEASE NOTE: This is a linear driver, not a switchmode driver. What that means is that if the input voltage is much higher than the LED voltage, it will generate a LOT of heat. In most applications it will need to be attached to a large heatsink to prevent overheating. Most handheld lights will overheat if driven at high currents for more than short periods. The amount of power dissipated in the driver can be calculated using the following equation:
P = (Vin-Vled) * Iled.
The efficiency of this driver depends entirely on the choice of battery and LED, and the wiring configuration. In the basic configuration, the efficiency can be calculated using the following equation:
Eff = Vled/Vbat
The price is $35.00 each plus postage, prepaid. I use USPS flat-rate box at $5.80 within the US. Most international shipments are a flat $20.00 fee. PM me before ordering if you want it shipped outside the US. You may be liable for import duty or other fees, which can be substantial. Please contact your customs office if you are concerned.
I recommend 4-C shielded w/drain cable for remote location of mode switches, pots, etc. Since it's hard to buy in small quantities, I am stocking that too. Price is 1-9 feet, $0.50/ft. 10-49 feet, $0.40/ft. 50+ feet, $0.30/ft.
Payment is paypal (dlburdette 'at' juno 'dot' com). If you want to pay some other way, let me know. Please put your username in the Paypal notes so I can match up posts with payments. Thanks!

Since there are six different versions, these are usually made to order. I usually ship within 2-3 days of receiving your payment. Please make arrangements with me prior to ordering if you need a specific delivery schedule.

I currently have in stock:

Single-cell:
​

10A - qty 1​

16.7A - qty 1
25A - qty 1​

Multi-cell:​

10A - qty 1
16.7A - qty 1​

25A - qty 1

​

I can currently make at least 5 of any version in a few days.


Last edited: