Flashaholic
CPF Supporter
Joined

Aug 9, 2015
Messages

15,344
Location
Mrs Fixer got a pet bird over the weekend. Now I likes me some bird pix. That is my favorite subject to photo. Well in the wild anyway. Those are here and gone scenarios often times in seconds. I like photographing flying insects for the same reason. But they are usually outdoors in daylight. Shutter speeds are usually really fast so if you can brace your rig on something solid a nice crisp photo is not hard to accomplish.
Indoors? Now that is a lot different. You either turn on every light in the house or deal with long shutter speeds. Long like 1/2 second, which is an eternity in quick picture settings. In order to get shutter speeds quick enough to capture a still looking bird who is anything but still, I cranked up the iso on the TS100 to 800. At 800 the noise filter is still gentle enough to not be so harmful to details while providing crops that aren't that bad. In other words I frame the subject a bit larger than I hope to see on my screen, snap a photo and if the outter edges of the scene are affected by noise cancelling, just trim the photo to the area I did want in the photo.
A monopod rested against a solid object is definitely a good thing in low light scenes with an object that moves or does not. Low light in the case of the TS 100 with its tendency to have big f numbers (as in small openings) would be mid day in 12 x 12 foot room with only two windows to provide light. So even at the largest opening (f2.8) the one inch sensor cam struggles to provide fast enough shutter speeds at low iso.
When it was all said and done a few nice photos of the bird were achieved using aperature mode. I'll try a scene mode (sports) at some point due to its habit of picking fast shutter speeds, compare what iso that mode chooses and compare with how things turn out using aperature mode.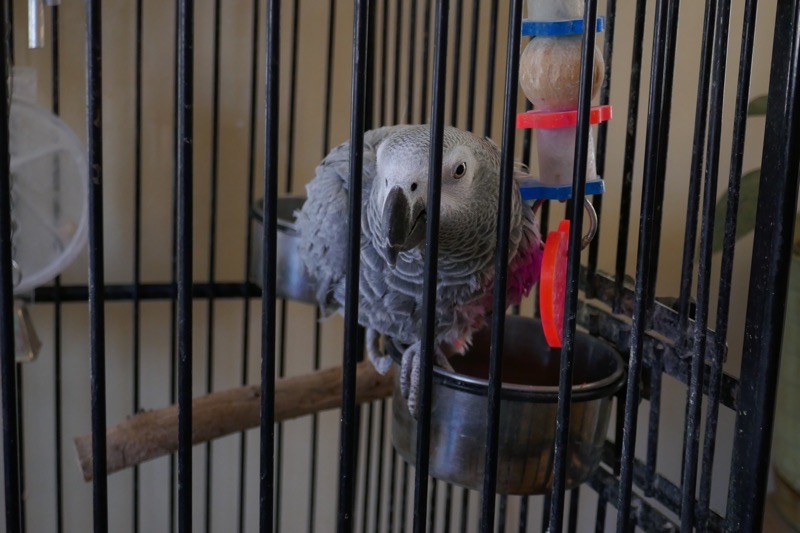 Here is the bird coming to check out that shiney thing (the camera)……
Just in case it's a snack so there was a wee bit of motion in the scene.
Shot with f4.1, 1/10 second shutter speed, iso 800, ev-1, zoomed to about 100mm from about 5 feet away.
Photo sent to my iPhone via SD card to lightning adapter, shrunk to 800 res at 'resize photo' app and using postimg to here.
Last edited: