This is my review for the Acebeam L16 tactical flashlight, which was bought by myself and for myself without any compensation from manufacturer.
INFO of the light here =
http://www.acebeam.com/l16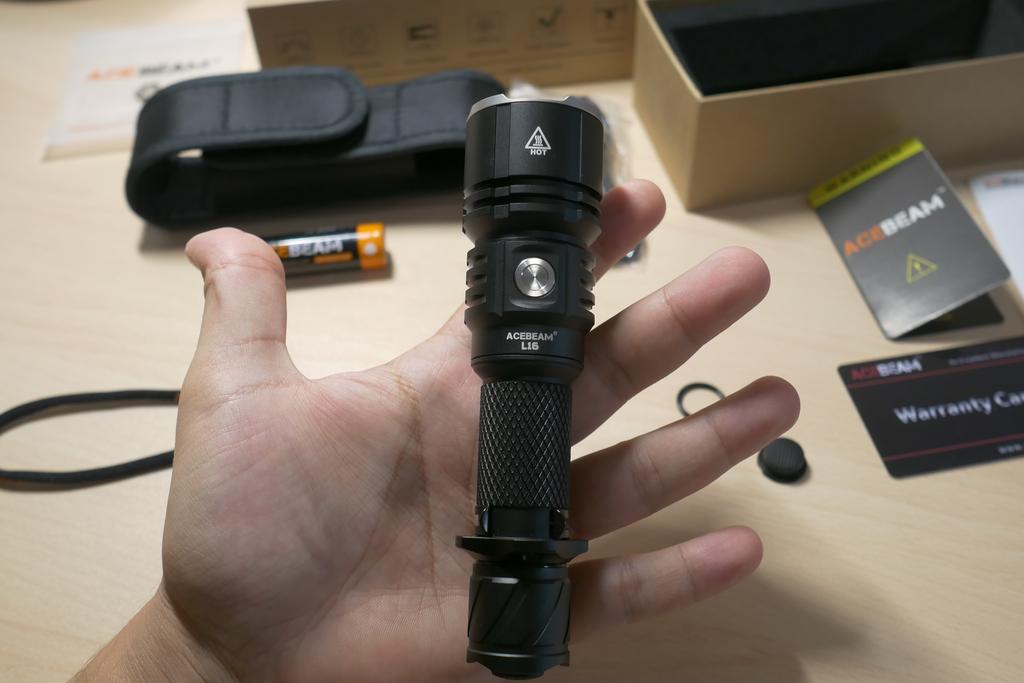 I consider myself a fan of Acebeam products, I've had many models like K40M, EC50 Gen II, EC35 and willing to buy the new K30 in sand and 5000k.
I wanted to buy a tactical flashlight with XHP35 led, rear forward switch, more than 400m throw and 1500+ lumens. After looking at all the options (Klarus XT12GT, Armytek Predator Pro XHP35)
I decided on the Acebeam L16 because of:
-More than 1500 lumens and without quick stepdowns
-600m throw while opening more degrees in the spill than Armytek Predator Pro
-Built in fast micro USB charging
-Rear forward click that only runs turbo
The specs looks promising, let's see the reality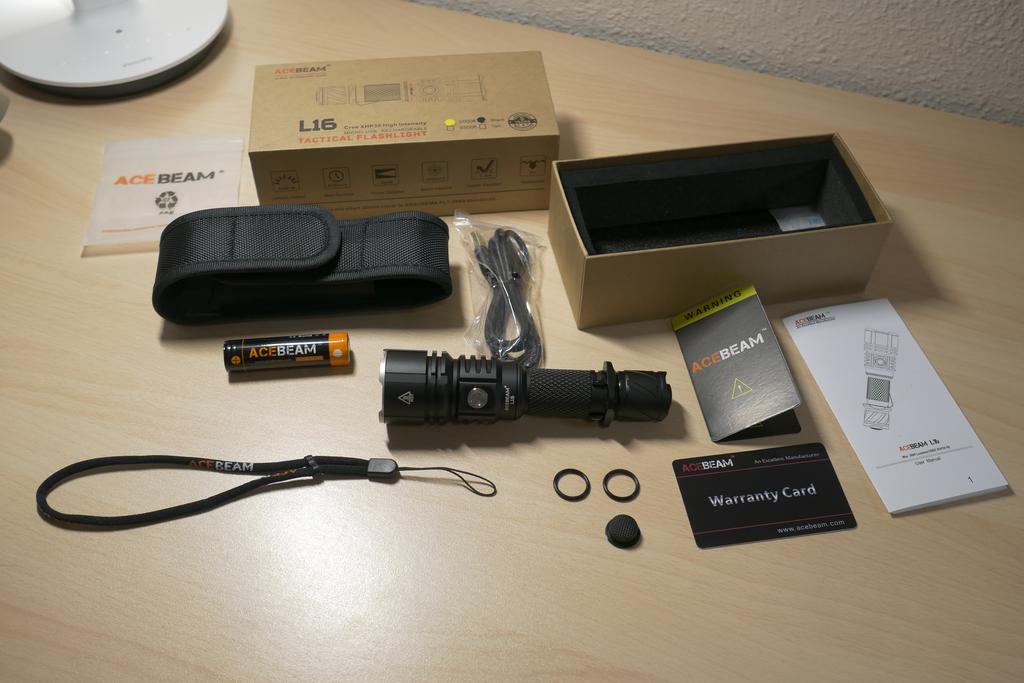 The Acebeam L16 comes in a strong discrete cardboard box, well protected with foam inside.
It brings some accesories such as:
-Spare orings
-Spare rear switch boot
-Micro USB cable
-Lanyard
-Nice nylon holster, molle compatible
-High drain 3100mAh 18650 cell, with PCB protection (I'm told it's a Sony VTC6 cell)
-Manual
-Warranty Card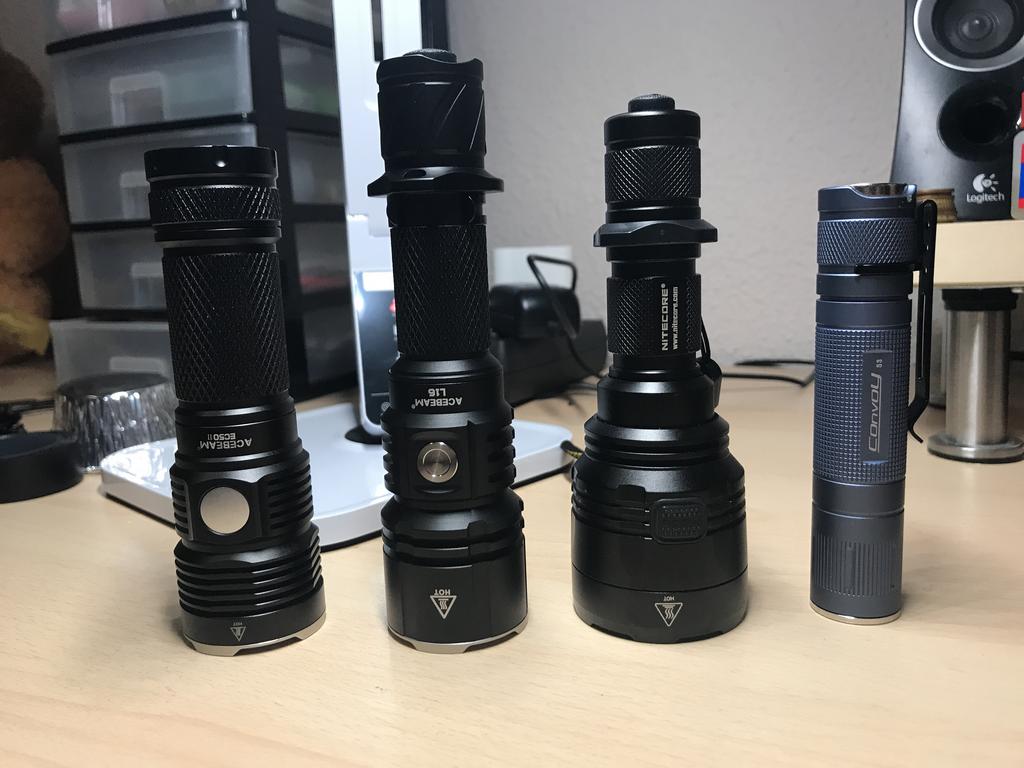 The light looks very well made, good quality semi matte anodization, knurling is kind of aggressive and it's very grippy, it feels very confortable and solid in hand, like a "premium" flashlight should. It has a pocket clip already clipped in the tube.
At the end of thee light there is a cigar grip, with helps the use of the real switch, lanyard attaches to it. It's removable by unscrewing it
The tailcap has a forward switch, with momentary on function, tailstanding isn't posible in this light
The XHP35 HI led sits perfectly centered at the bottom of the very smooth deep reflector that makes a very bright beam
Lens is AR coated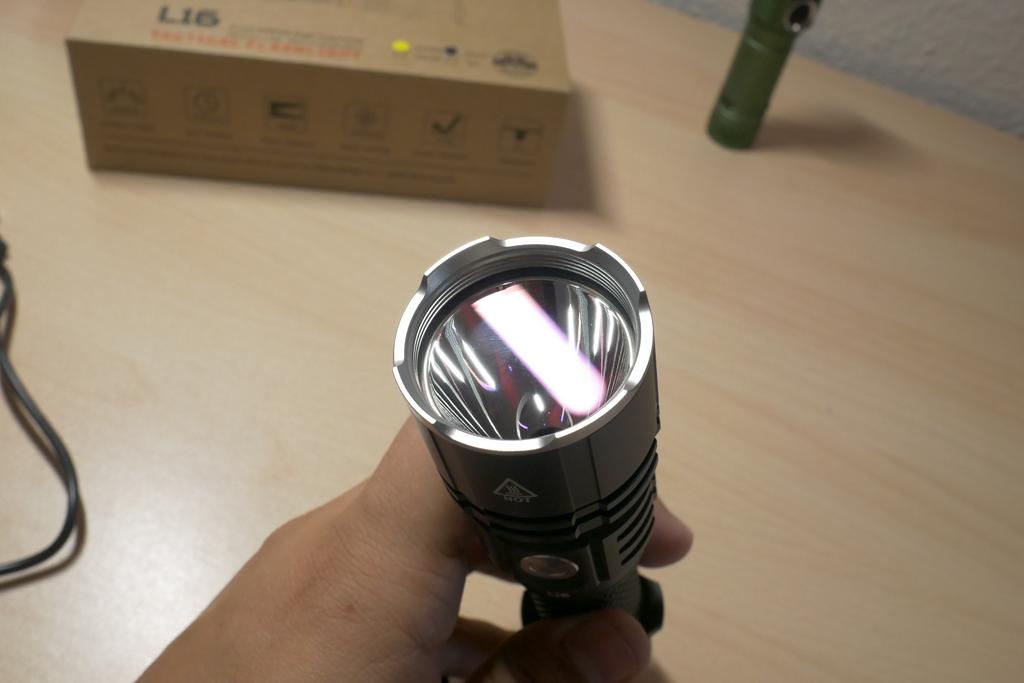 The flashlight isn't glued, so let's see the different parts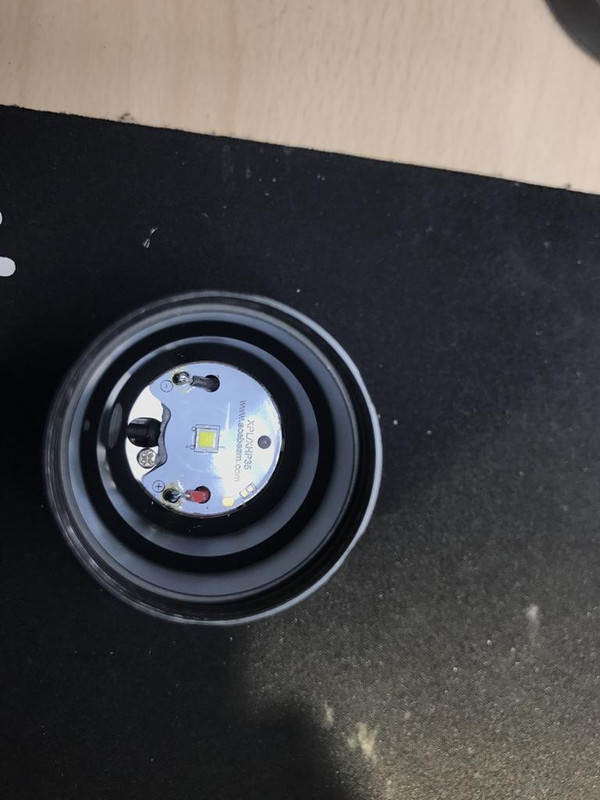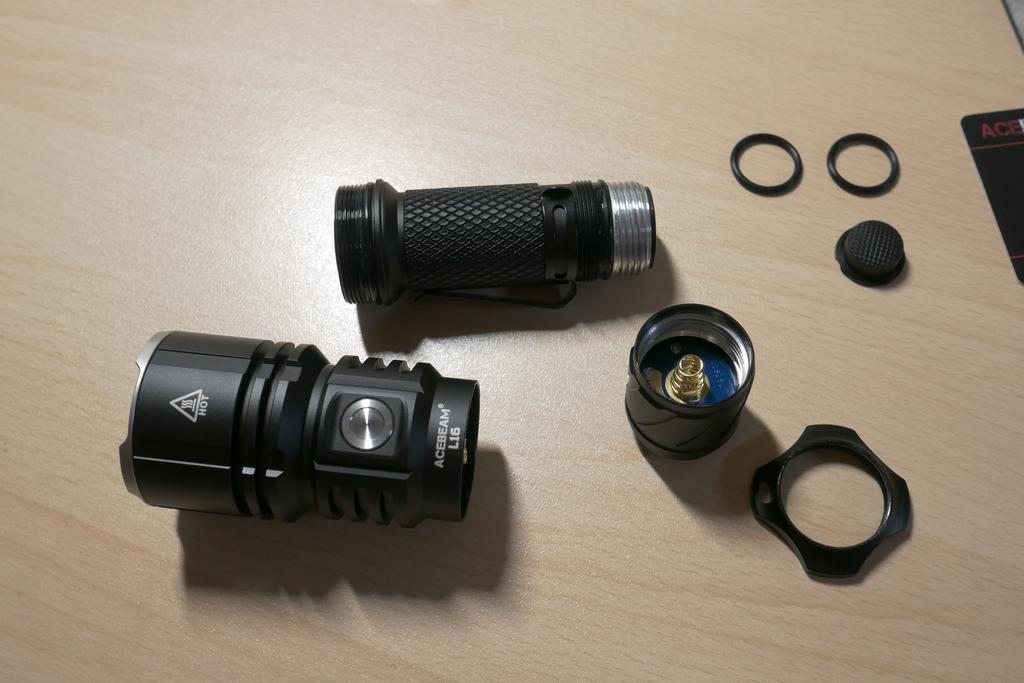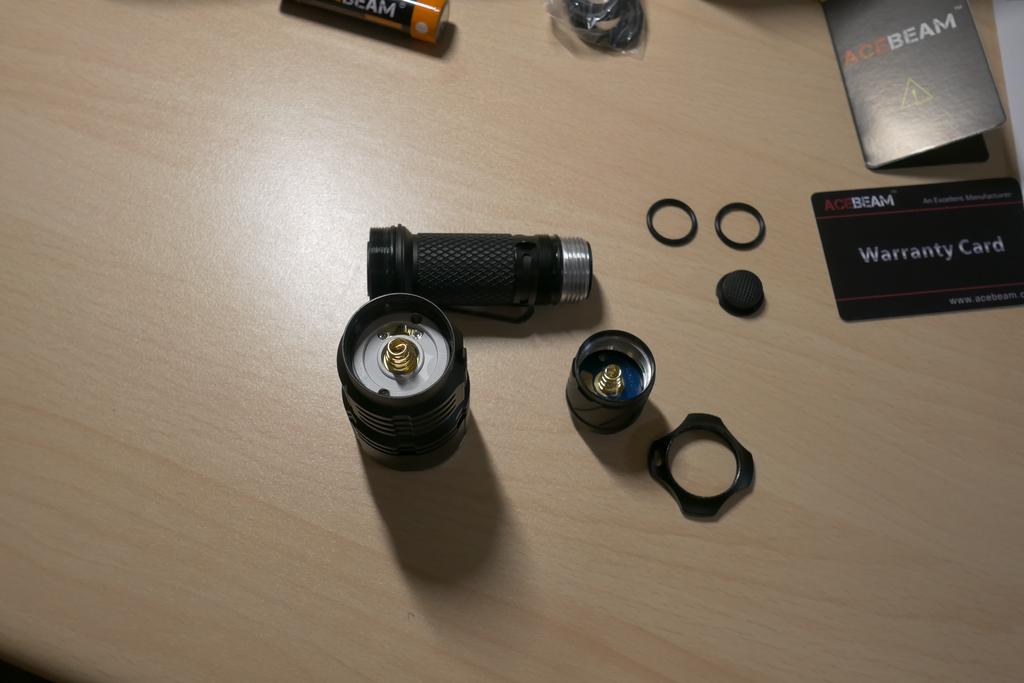 The threads of the tailcap end are square and deep, but not anodized, this is also needed for the rear switch. The threads of the head end are triangular and anodized.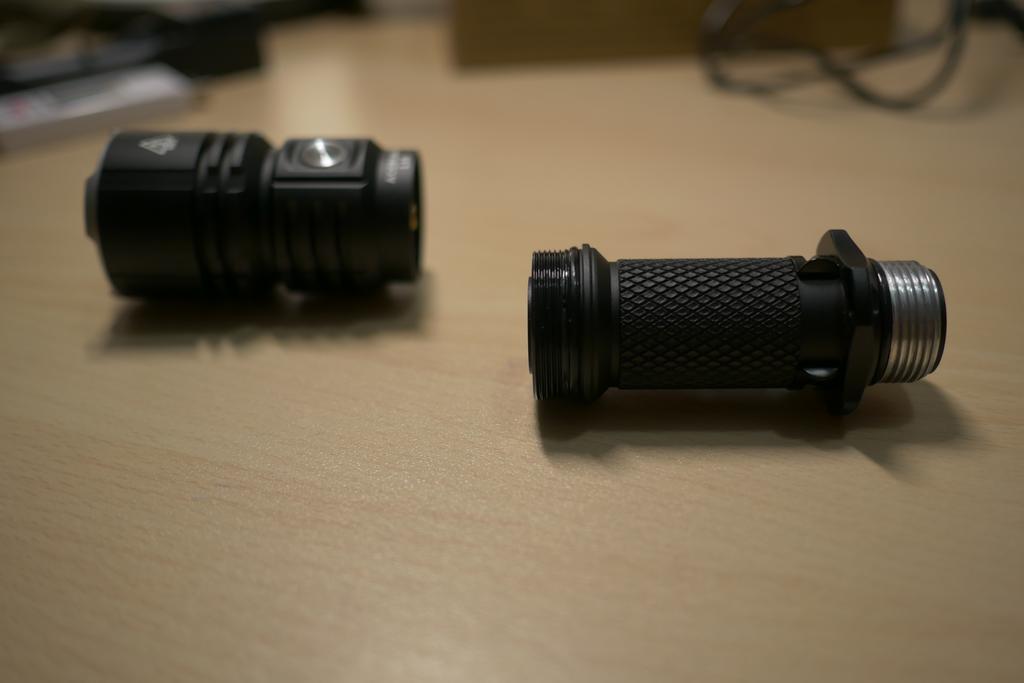 The light has a very fast built-in micro USB charging, it can't charge 2xRCR123, only 1x18650.
I've measured the charging current at 1.96A, which should charge the included cell in around an hour and a half. Once the charging ends, the cell was at 4.20v.
Unlike other manufacturers, this light doesn't require propietary cells, so you can charge any cell inside and also charge the included cell in a external charger.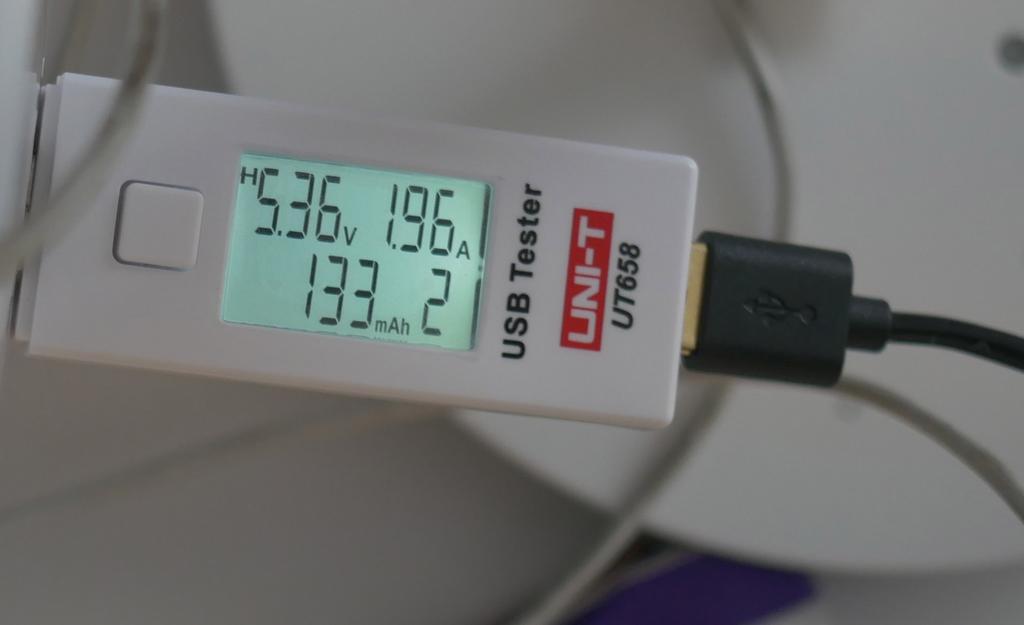 The light has a led that will light red when charging and green when finished. This led is light enough to see it easily, this has been improved from other older models like EC50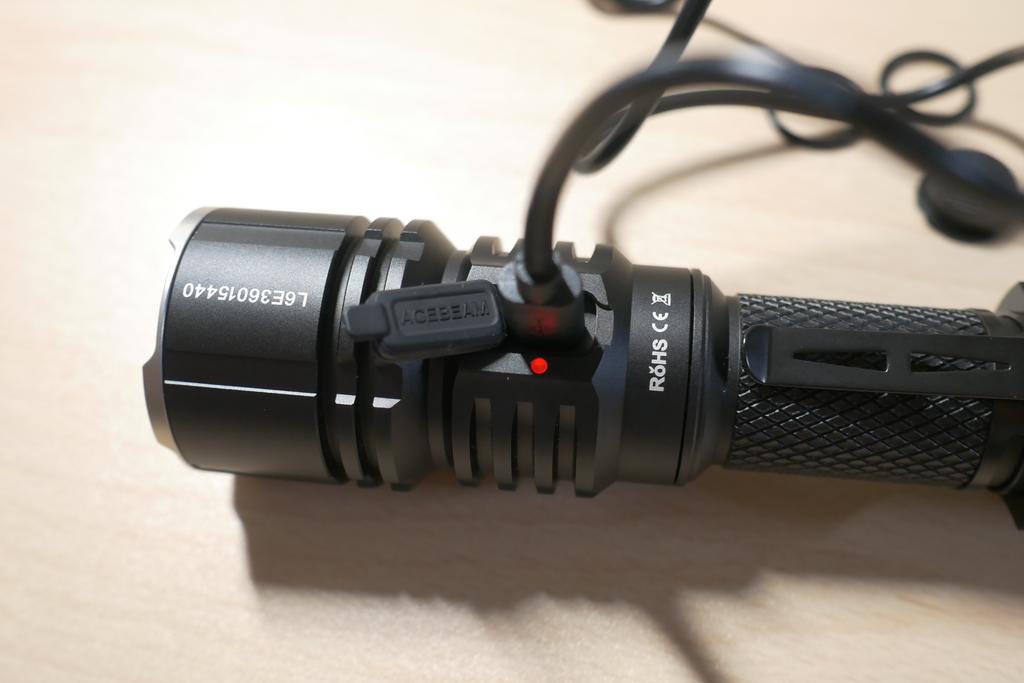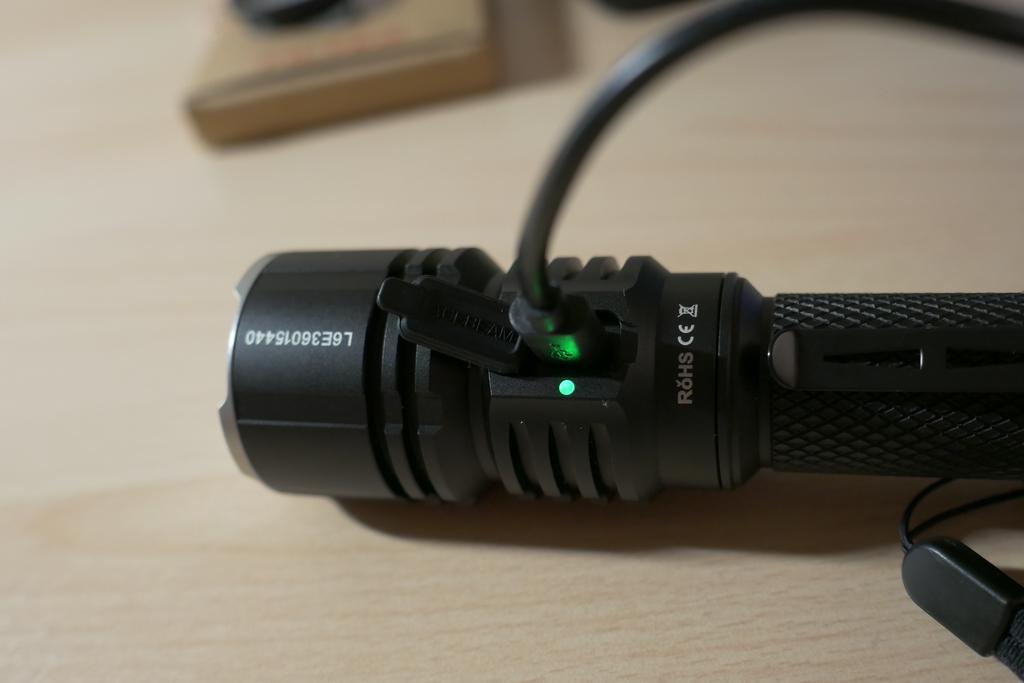 I've measured the standby current at 103.6uA, which seems a litlle high, but it's more than 3 years to discharge the included 3000mAh cell
UI

Let's talk about the UI
The rear forward button will only run the light on Turbo, it has momentary on function. If you are in low mode an the press the rear switch, it will go to turbo, and when you press again the rear switch it will turn off. I don't really like this, as the light should have some kind of memory and go back to the mode you was using before pressing the tailcap switch instead of turning off.
The side swich controls all the modes, and the UI is a well known from Acebeam and Olight users.
From off:
-Long click: moonlight
-Long click for more than 3s: electronic lockout, you'll have to click again for more than 3s to exit lockout mode
-Single click: last used mode with memory. It will remember moonlight mode but not turbo
-Double click: Turbo
-Triple click: Strobe
From On:
-Single click: Turn Off
-Long click: The light will cycle through modes, it won't start from the lowest mode every time you long click, it will go up from the level you are in that moment
-Double click: Turbo
-Triple click: Strobe
Measurements

I've measured this lumens, current and throw from a fully charged cell

Runtimes

The light stepdowns from turbo to 800lm when it reaches 67º in the head. It won't stepdown from High (1000lm) so temperatures are high, I've seen the head reach +75º
The provided protected cell shuts down the flashlight at 3v, but if you use a non protected cell it will discharge to 2.75v so runtimes will be longer.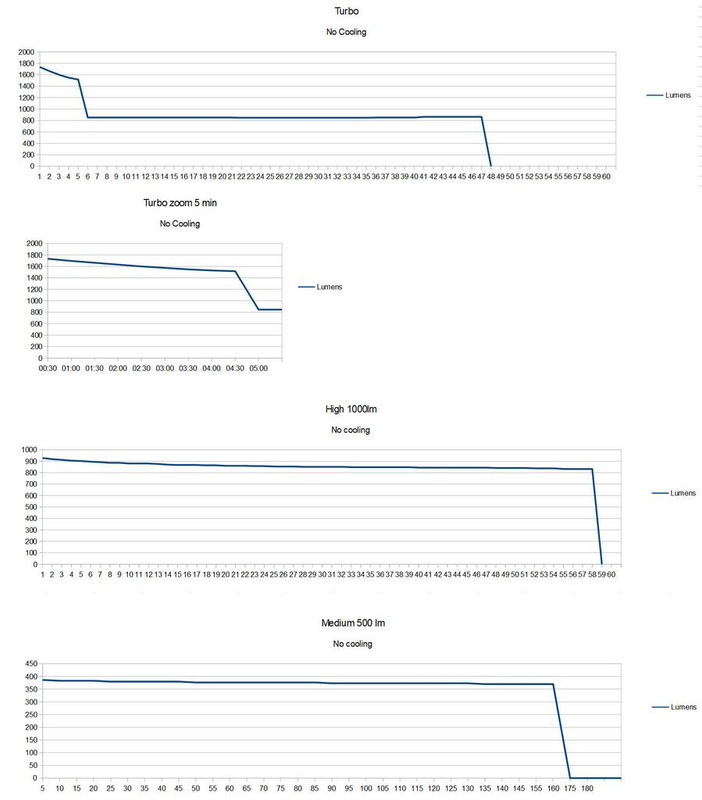 Beamshots: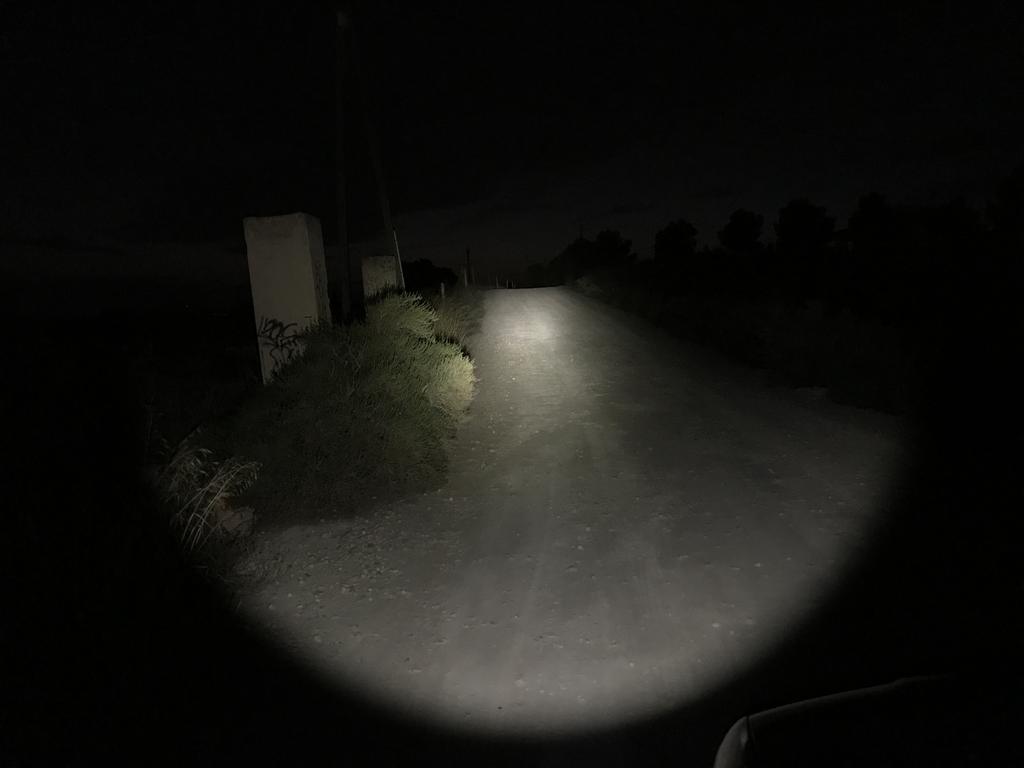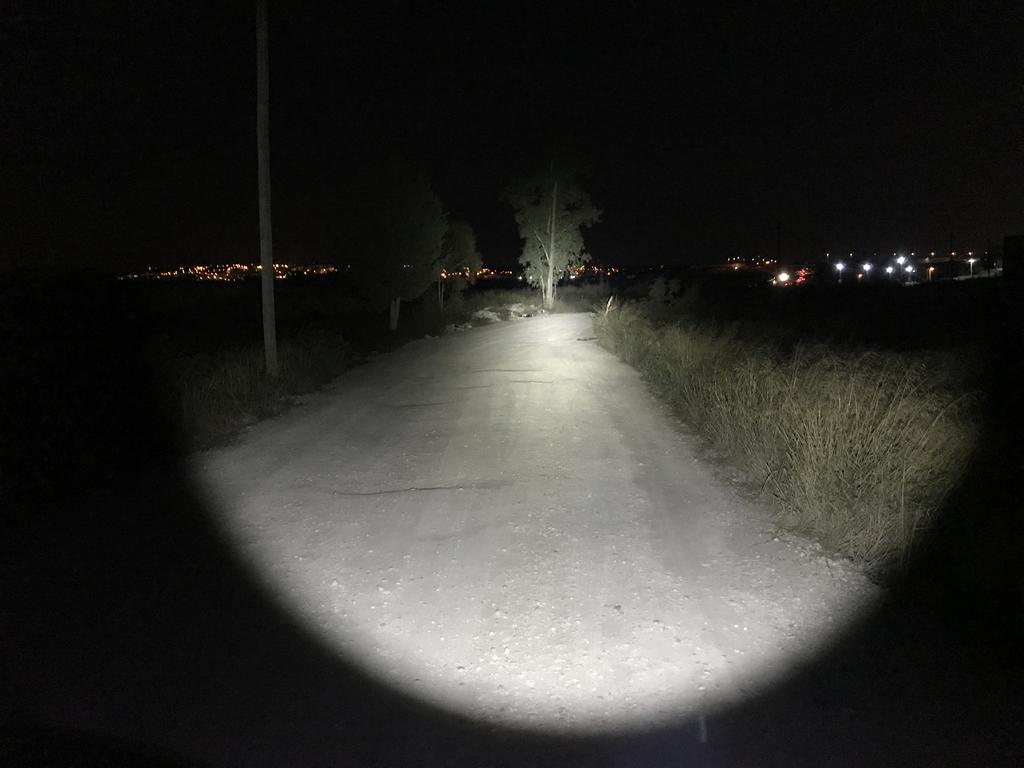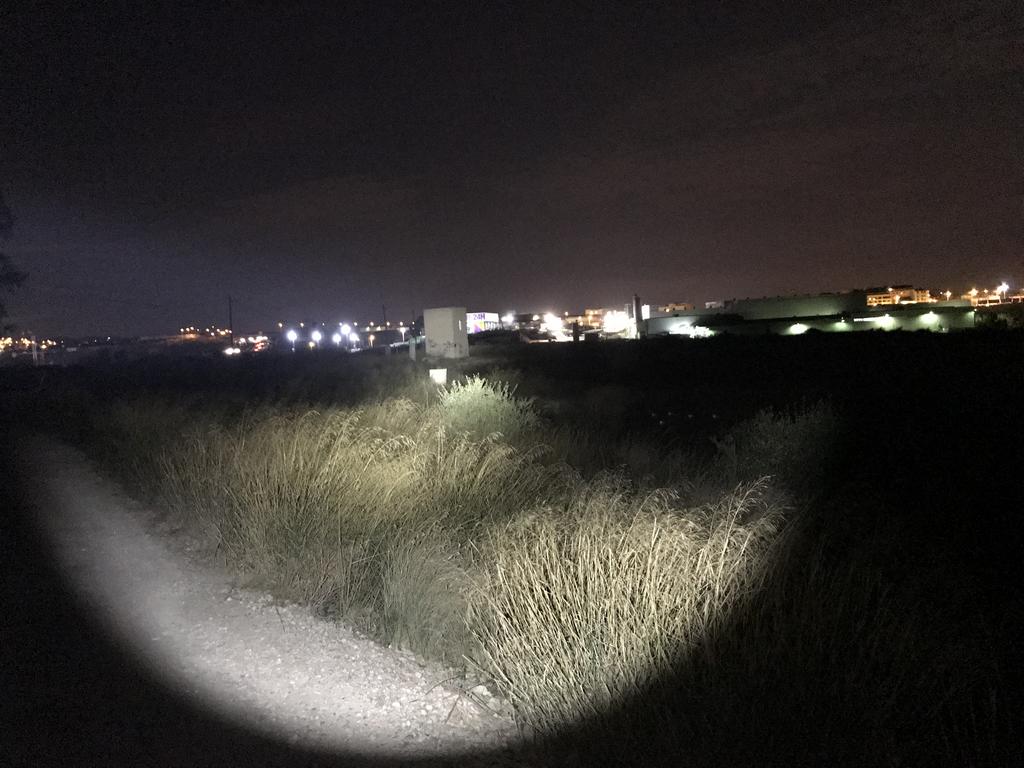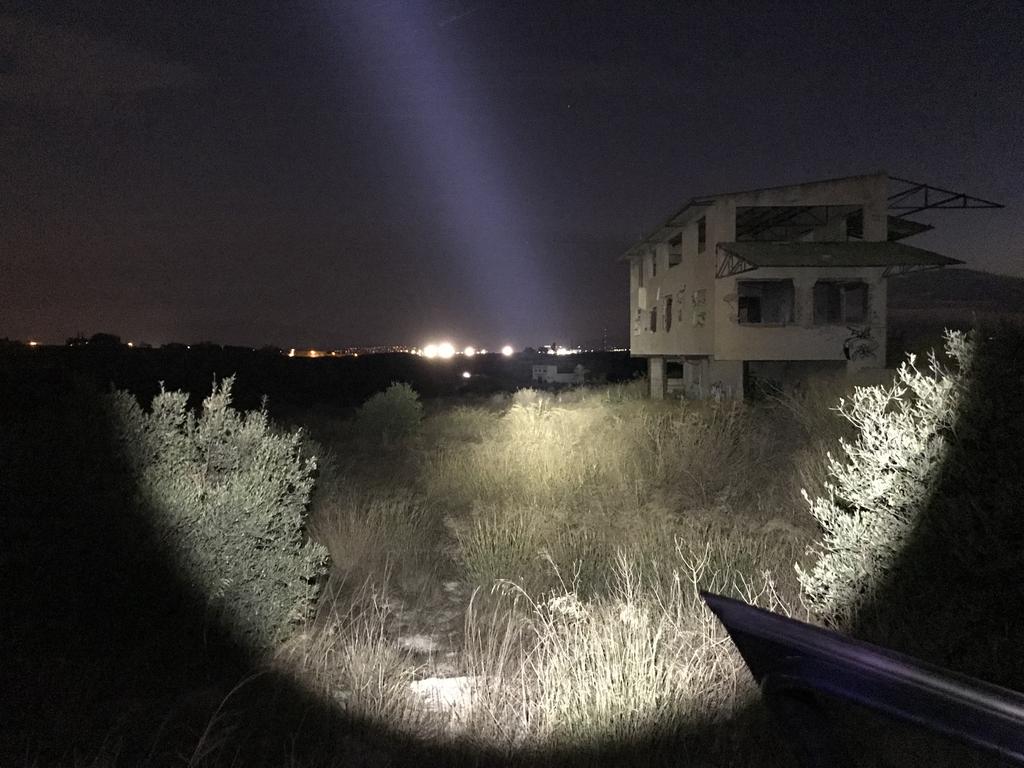 I've also bought the Acebeam's FR30 white diffuser.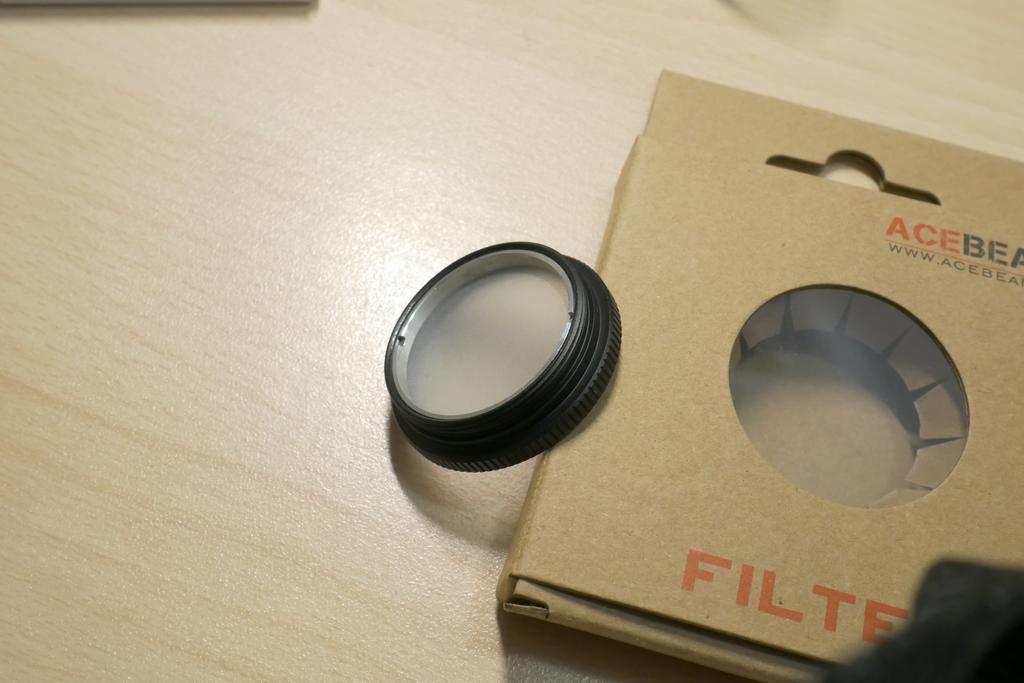 It comes in a cardboard box similar to the flashlight's one.
The black ring it's made of aluminium, and the white translucent lens is made of glass. It screws onto the front bezel, it suits the flashlight perfectly.
After screwing it, the beam fully changes, totally flood as it's impossible to see any hotspot, all the light is diffussed from your feet. It's very confortable if you use the light for walking, but it won't reach much distance.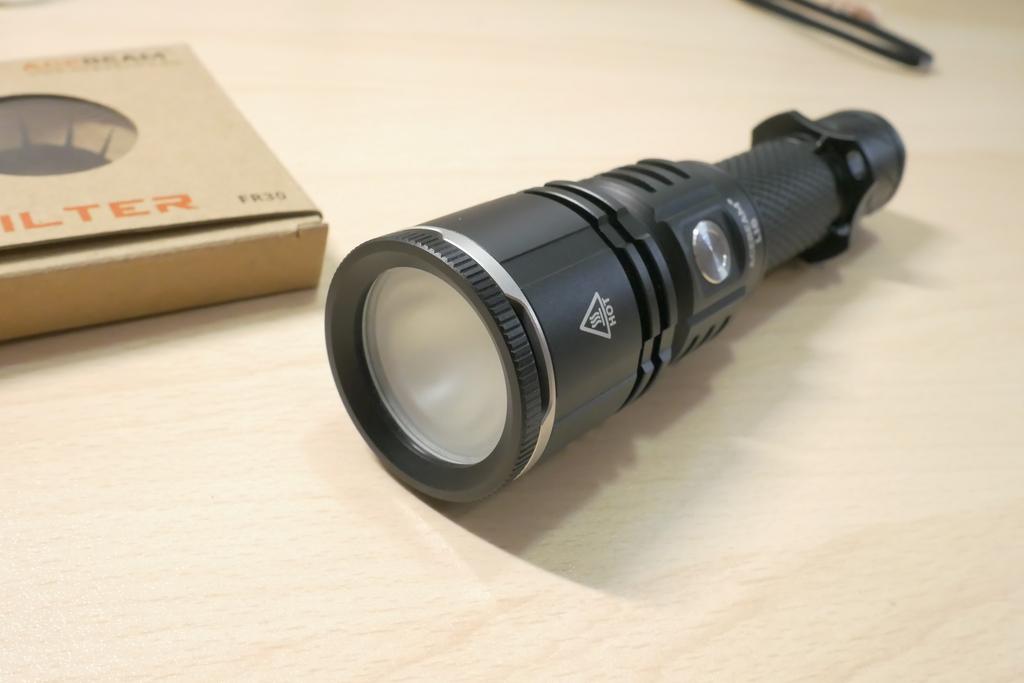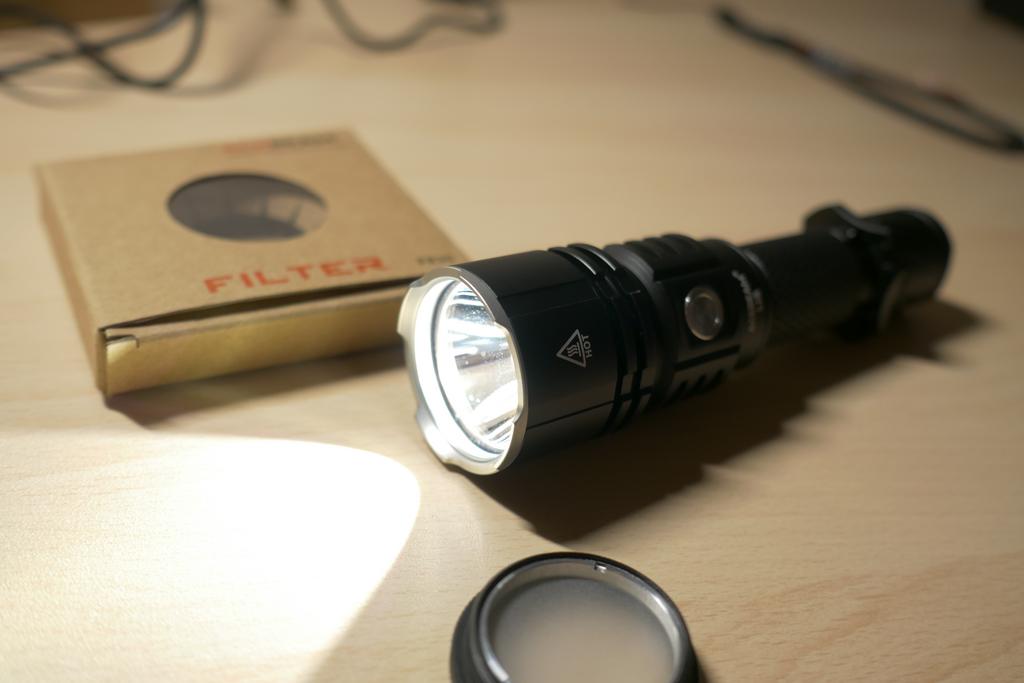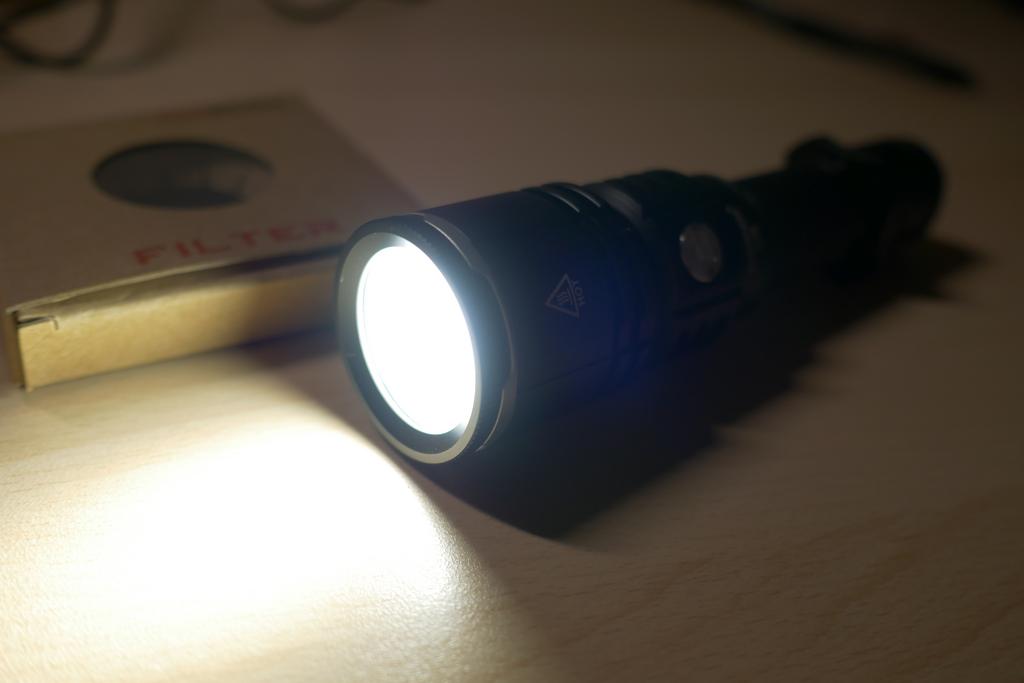 Diffuser OFF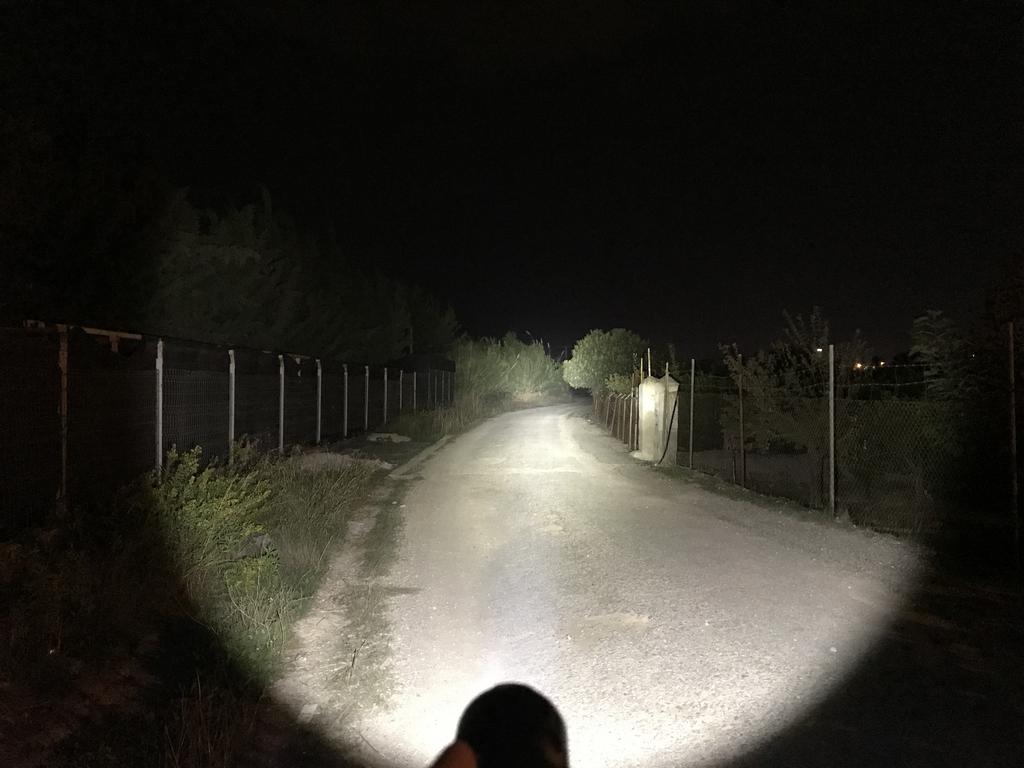 Diffuser ON
Conclussion:
I'm very happy with this flashlight, nice construction, good quality electronics, very confortable in the hand and you get a lot of throw while still having some flood, but I won't call it a multipurpose or EDC light. The option of the FR30 diffuser makes possible to turn it in a floody light.
Nice flashlight for law enforcement and tactical purposes. I'd buy it again!
The only thing I miss is the no memory from the tailcap switch to go back to the previous mode you was using, and it would be great if Acebeam offered the option to buy a 21700 cell compatible tube
Last edited: