bykfixer
Flashaholic
CPF Supporter
Joined

Aug 9, 2015
Messages

16,190
Location
To start with, I like cigarettes. I like coffee, and I like chocolate. In moderation none of those is a big deal but....
Like anything too much of a good this is.... too much.
I used chocolate for years to offset cravings for the sugar in alcohol when it was time to stop binge drinking. It worked. Haven't used alcohol beyond a shot of nyquil for over a decade now. Trouble was, I ate too dam much chocolate for a few years. About $35-40 a week on candy or other snacks and it was taking a toll after a while so I stopped doing that.
I used coffee to stay alert out on the highway at 2am. When returning to day work coffee is still part of a routine. Now Mrs. Fixer makes coffee you can use as paint. It's yummy but causes diaretic issues so when working in heat that aint cool. So I switched to 50% decaf then decaf and get a morning boost with fruit juice.
I grew up in a family who should have been born with a chimney sticking out of their skull. And all who smoked (notice past tense) passed away from heart issues. By 12 I was trying cigarettes. I stopped by 13 but resumed at 15. I'm 54 now. And like drinking, I did not go the moderation route. But at 54 it's time to rethink that way of life. I have noticed (thankfully) that smokers are becoming fewer and fewer in my daily circles. Most I run with are younger and never understood the virtue of a cigarette. So they look at me as an oddball. Well not only because I smoke, but carrying at least 2 flashlights in the daytime also causing looks with a head tilt.
A recent visit to a heart doc caused the thoughts of smoking to become a habit that needs to stop. Plaque in these older arteries is quite likely an issue that will only get worse. I remember watching a video of blood flow in my dad's heart and asking his doctor "how is that blood getting from A to B" (as there was an obvious gap in an area) and doc says "that is one of those miracles I cannot explain". Now, I did not go see a heart doctor because it seemed like it was time. It's like going to a dentist after not going for 20 years.... because there's an issue that requires a specialist. Doc didn't say "quit or die". What he said was "I smoked from 17 to 45 and quitting was the hardest thing I ever did".
I told him I quit everyday..... for about an hour. He suggested a vaper. He said the jury is still out on the long term affects but by not ingesting tobacco smoke the plaque buildup will halt. Hey, count me in.
I have quit cold turkey several times. I learned each time what I was doing wrong after the fact. A few years back I tried cig-a-likes before that word was even used. They were called 'digital cigarettes' back then. Trouble was they were less than reliable and make from Lord knows what. Mrs. Fixer would get painful blisters on her lip from digital smoking and mine kept popping causing nicotine laiden juice to run down my face. A whole day supply of nicotine soaking into my skin was not my idea of a good time.
It's 2018 and vaping has come a long ways thank goodness. Sure those junky cig-a-likes put out by big tobacco still exist. But the fad of digital smoking is no longer a fad. It's an industry not unlike the flashlight industry. And I've met countless people who kicked the tobacco stick habit with a vape device. Not only that but proprietors are more than happy to help smokers stop. Afterall they make a living selling non tobacco products.
What my first thought was to return to the e-cig. But then I discovered these "pod" systems that take all the guesswork out of the process and replace the buldge in your pocket once taken by a pack of cigarettes and now replaced with something safer.
In my home state they banned smoking indoors a few years back. But vaping was still new so that wasn't banned. Mrs. Fixer and I to get our kicks would whip out our e-cig and puff away in a restaraunt to get reactions from others. Often the reaction was puzzlement as other patrons thought we were violating a law because the e-cig tip glowed like the real thing. Now vaping is banned too. I had begun to notice in traffic there were times a driver would bellow out enough (what I thought was) smoke to look like the inside of their car was on fire. It turns out that "big clouds" from a vape device is a big deal to some.
So when I rejoined the digital world that was not on my list. 40 year smoker lungs whince watching those folks. I set about learning about the vape while trying out a pod or two but.... none were satisfying that craving to ingest tobacco smoke. Fruity, snacky type flavors are yummy and satisfying to the taste buds for a bit. Yet my brain wasn't falling for it. Each puff of grape was creating a stronger urge. My brain was also saying "you need tobacco flavor dummy". Yet all of the juices out there were only attempts with a dab of vanilla or flavorings trying to mask the non real McCoy.
I stumbled across a brand called Black Note while learning the vape details and instructions at a stoners youtube channel. I did some research and found a flavor called Prelude (virginia tobacco).
Tah-Dah!! Those folks have found a way to gentley remove tobacco flavor from real tobacco without harsh chemicals. I ordered two bottles of this fairly pricey stuff and boy was I not disappointed. A tankful in my favorite mod was about to begin. First puff was a surprise. Wait a minute.... that wasn't vape, that was a cigarette.... so I lit a tobacco stick and did a puff by puff comparison with my pod that hits like a cigarette. I could not believe it.
That was yesterday at about 4pm. It's now 9am and I have not smoked anymore cigarettes since that last side by side test. Not even an after dinner smoke. So this is what I'll call day 1. And it is still early. And to add a bit of torture to the test I have a pack of smokes nearby. Ok, so last night I did try another cigarette, but put it out after a few drags because I liked the vape experience with Prelude better.
My choice of device at this time is a pod by JoyeTech called a Dolphin. An update to my backup, also by JoueTech called a Penguin. Both have a ceramic coil system with choice between 0.25, 0.6 and 1.2 ohms for a different experience with the same flaving. I like the 0.6 and bought a few replacements. It gives off a similar experience as those mods that use 0.5 ohms that provides a satisfying flavor and a good "drag" to mimic that all addictive tobacco stick. I put a tester tip on mine from trial batching at various vape stores and head shops. The soft silicone tip extension mimics a filter on a tobacco stick. I also added a few drops of butter/pecan/almond tobacco by Camelot to the Prelude juice for a pleasant after taste to aid the yuck mouth/want another cigarette urge. The Prelude is a 50/50 vg/pg mix that is smooth, smooth, smooth. Not the least bit harsh.
I'm not saying my way is 'the way' to halt smoking. I'm just throwing out a few tips that can hopefully help someone else who is stuck like I was trying to trick their brain into thinking the vape tool is the real thing. As a reward and way of helping with vape tongue I keep a backup device loaded with a flavor I found to be to my liking when trying to curb the tobacco stick urge. In my case it's an Avail mix called Pandoras Box, which is a nice blend of sour grape and sweet grape. The 0.6 also provides a combo of sweet/tart my brain likes. 0.25 was too tart. 1.2 was too sweet.
I started vaping about two weeks ago to
reduce
my smoking. No thoughts of quitting were on the radar. Afterall I like cigarettes. It was easy at first and after a few days my smoking was down 75%..... but little by little the tobacco stick was taking back lost ground like the enemy in a tough battle to the death. But why? I pondered.
It was beginning to look like no matter what flavor of candy, juice or food I vaped that urge for a nasty ole cigarette was not easing up, but getting worse. When I did those first few puffs of Prelude I though "nah, this aint gonna work either". After about 25 puffs I began to forget I wanted to smoke. It was the darndest thing. My brain over the last two weeks was craving the sweet stuff from the vape but the yuck from a cigarette too. Now my brain is being satisfied in both cases.
At $23 for 30 ml it aint cheap. And Black Note is not the only one using natural flavor extraction either. But the ones I had tried before "reds", "partriots" etc all tasted like tobacco smells. A smoker will tell you that it's the flavor of burning tobacco, nota flavor that tastes like unburnt smells that satisfies the urges. Otherwise we'd all be walking around with an unburned cigarette taped under our noses.
Hopefully others will share their tips on how they were able to finally say "I'm done with the cancer stick". Like building muscles, no pain no gain. So there is going to be a struggle. Yet like throwing darts at a bullseye, you likely won't hit the double bull dead center on the first throw. If you keep trying at some point (with or without a cessation aid) you will hit it.
For me triggers are caffienated coffee, the smell of a burning cigarette, urges after a meal and a stressful situation. I switched to decaf coffee (and a juice as a stimulant), puff on a nice desert flavor after meals and will have a tobacco flavor available for typical urges (plus one using a 0.25 ohm coil to get an even stronger vape for those stressful times). And I look forward to times when I can say "don't smoke" when someone asks for a light.... (instead of handing them a flashlight.)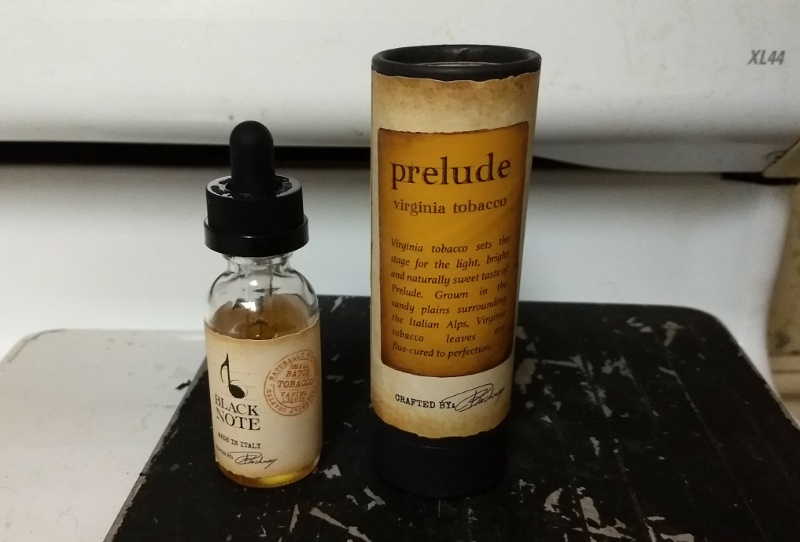 Money well spent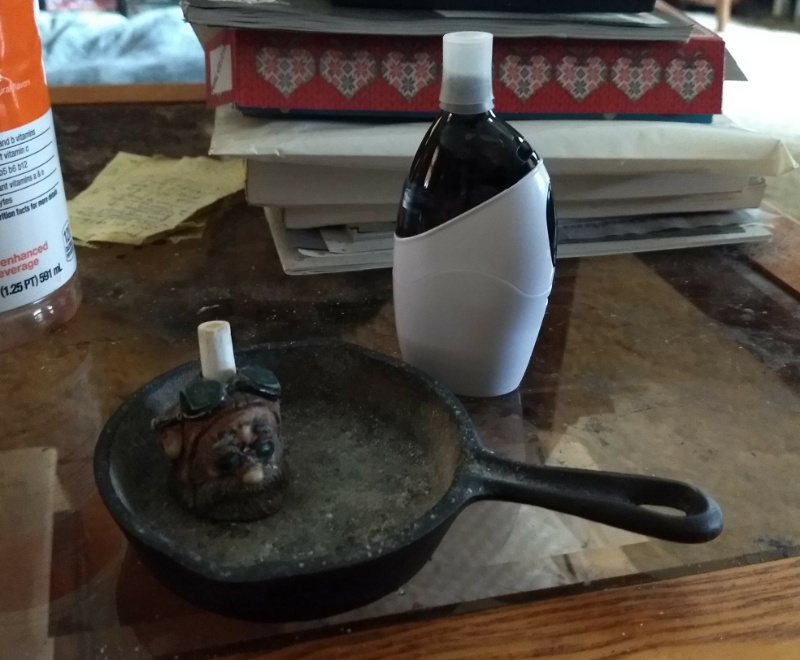 Possibly my last cigarette.
Last edited: