Joined

Feb 15, 2009
Messages

2,820
Location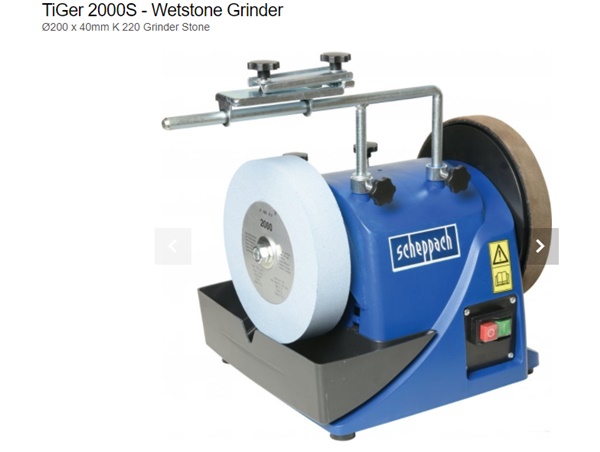 Yeah , got me a new toy / tool !
It is a wet stone knife sharpening machine .
This is not a product review , but rather putting the cart before the horse . Or rather in this case the results before any review .
I have a collection of what I consider junk knives and pulling out a few I used them to practice and develop a technique to sharpen knives on the grinder .
I will say , you do need to develop a technique or skill to get the best from the machine .
I got my technique to the point I can get the knife off the machine shaving sharp without de burring / stropping the knife .
And to that end - we need ( I did ) to test the resulting edge .
The edge under magnification looks as rough as a saw blade , it looks horrible ( 30x ) .... Butt !

It cuts !
Previously my Ruike 661 had done :
1500 grit = 40 slices of rope
180 grit diamond cut edge = 110 slices of rope
Wet Stone Grinder = I stopped @ 170 slices because it had kicked 110 to the curb .
When I came back inside I was easily able to slice paper in a relaxed stress free environment .. But I could feel the drag .
I have a leather strop with some polishing compound on it ( green stuff ) and after half a dozen passes on the strop the edge was back . It sliced the paper with ease . And this is what I was looking for , a method of sharpening a knife that then allows for easy edge maintenance ( like stropping ) to bring back the edge .
Obviously , if your a $10 knife man your probably not going to want to spend $$$ to put a edge on your knife - Maybe .
My experience to date :
If your knife has good steel , then it will take a polished edge ( finer finish ) . Butt and it's a huge butt ! If your knife has rubbish for a blade , then a fine / polished edge is a waste of time and in my experience a rougher edge will last / cut longer . Obviously how well the edge was made has something to do with that as well and that's where a wet stone sharpener like this can do a really sweet job .
In this case what really maters is that it works for me and in no shape or form am I pushing this on anyone . Simply sharing the results of some rope cutting .