Joined

Mar 6, 2016
Messages

252
Location
Surprisingly, Fenix ​​have come up with some sort of new UI. And this is more or less normal UI.
The flashlight, as usually, has dubious moments, but, in the end, Fenix ​​TK11 TAC is definetely not bad, I was way more sceptical about it before writing review.
Fenix ​​TK11
TAC
official model page
|
manual
LED: Luminus SST40; maximum brightness 1600 lumens;
maximum range: 335 meters;
Tactical and Duty modes;
overheat protection;
discharge indication;
batteries: one 18650 Li-ion or two CR123A batteries;
durable body made of aluminum alloy A6061-T6; dimensions: 140 * 34 * 23.5 mm;
weight is 114 grams (with battery).
PACKAGE AND APPEARANCE​
Everything is good here. A neat thin cardboard box with excellent printing. If you take it as a gift, you won't be ashamed.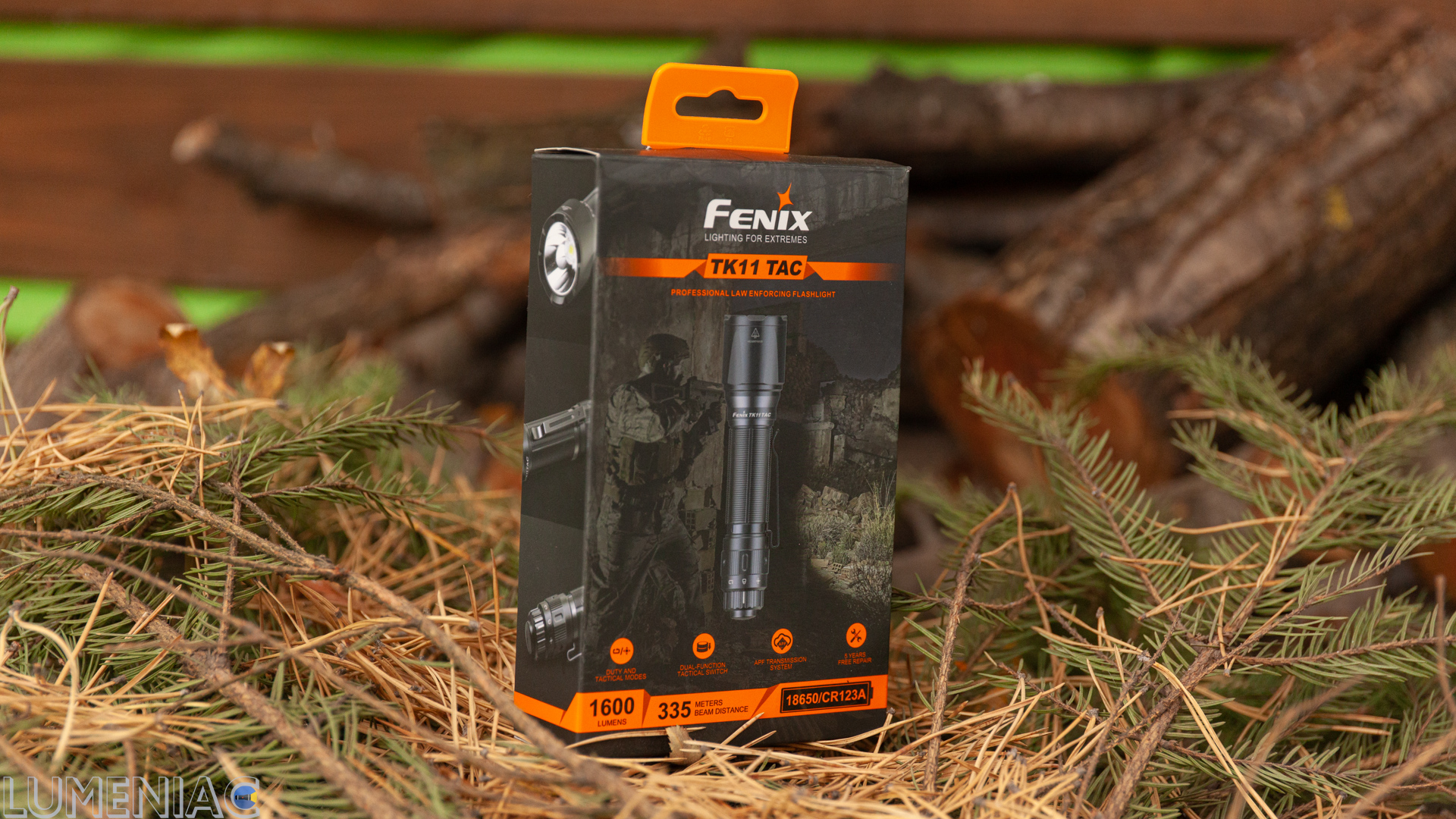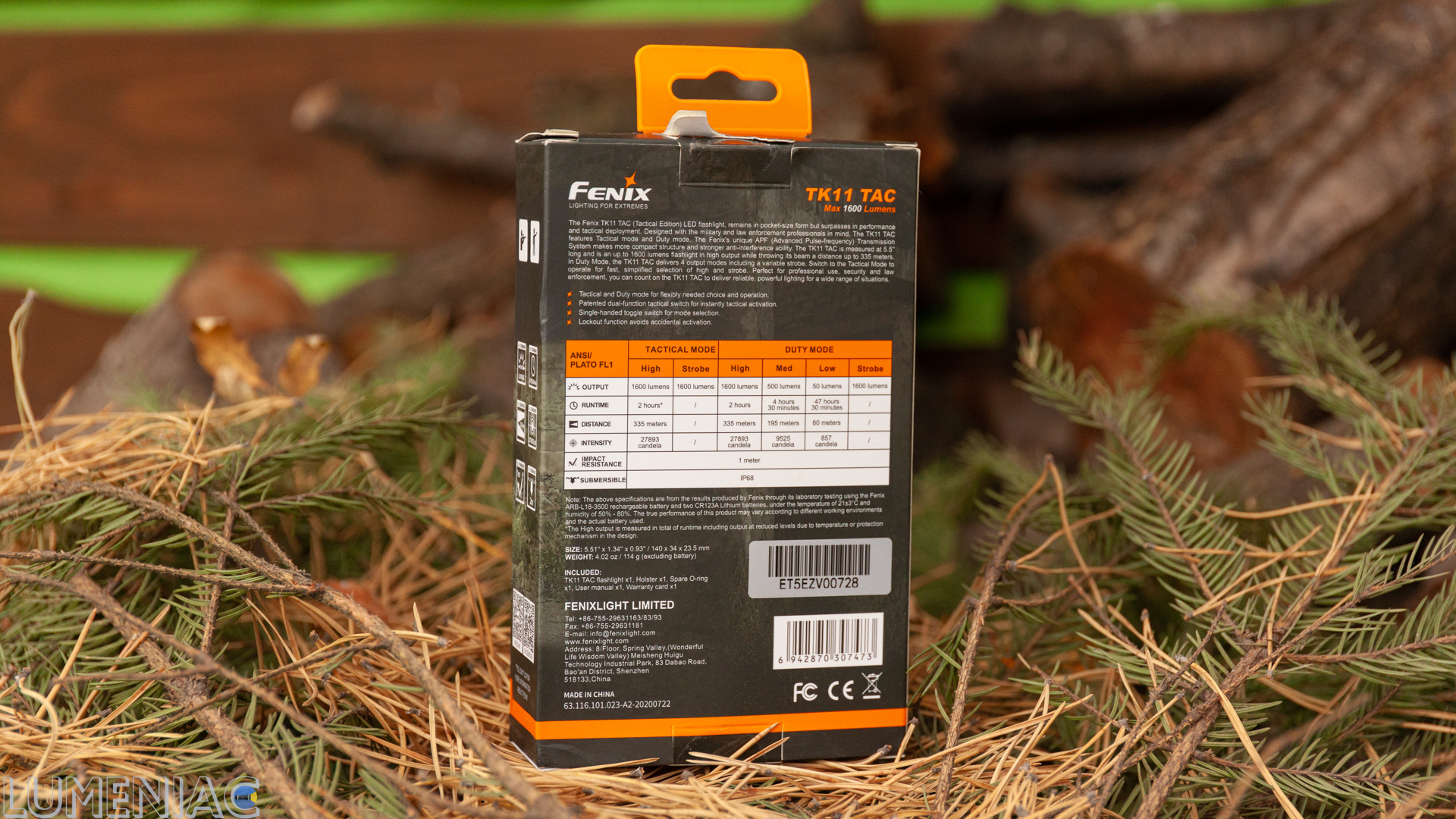 Kit includes flashlight itself, holster, o-rings, manuals. No battery included, which is cheap from Fenix with battery self-cost, and no lanyard, which even cheaper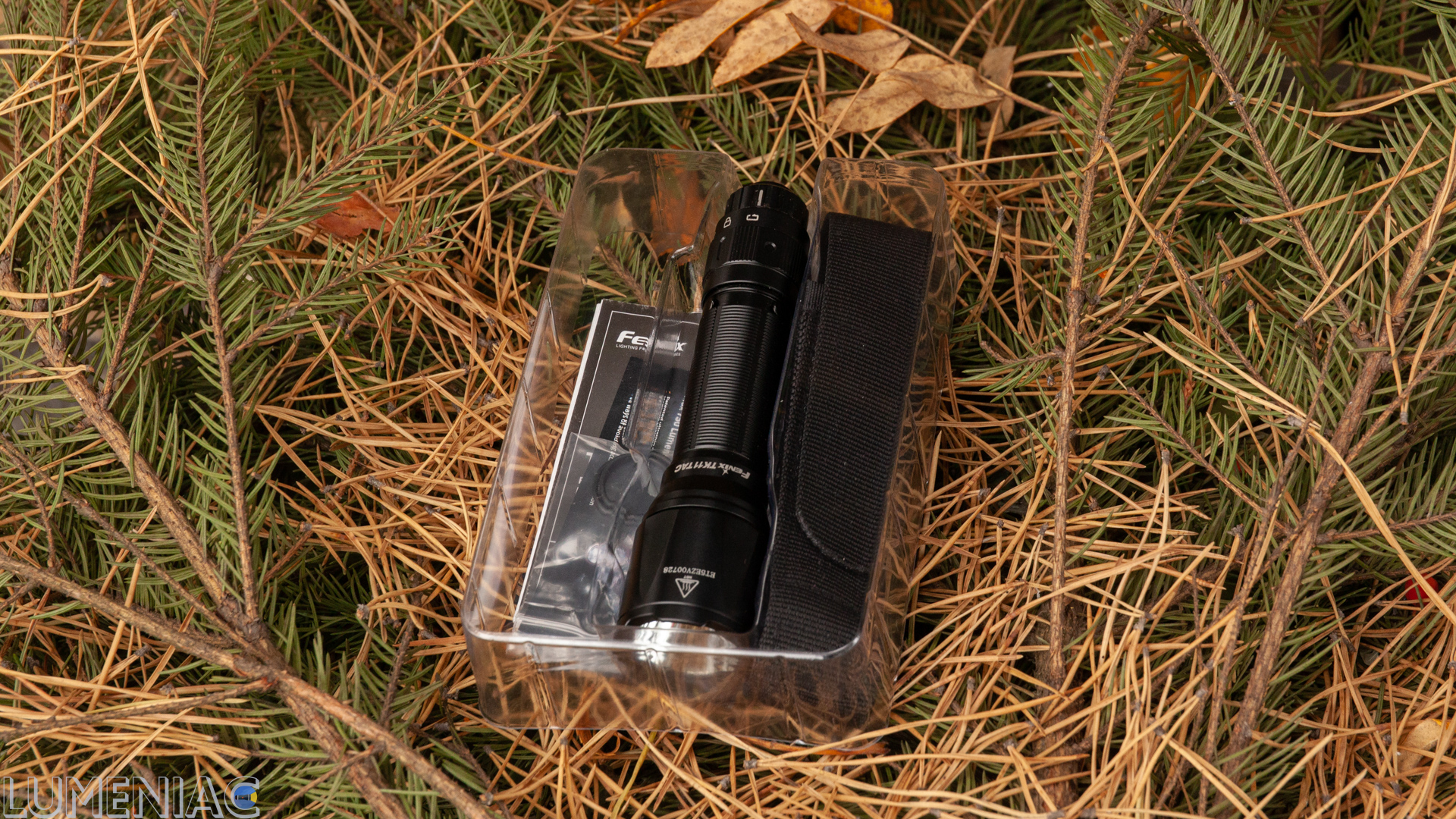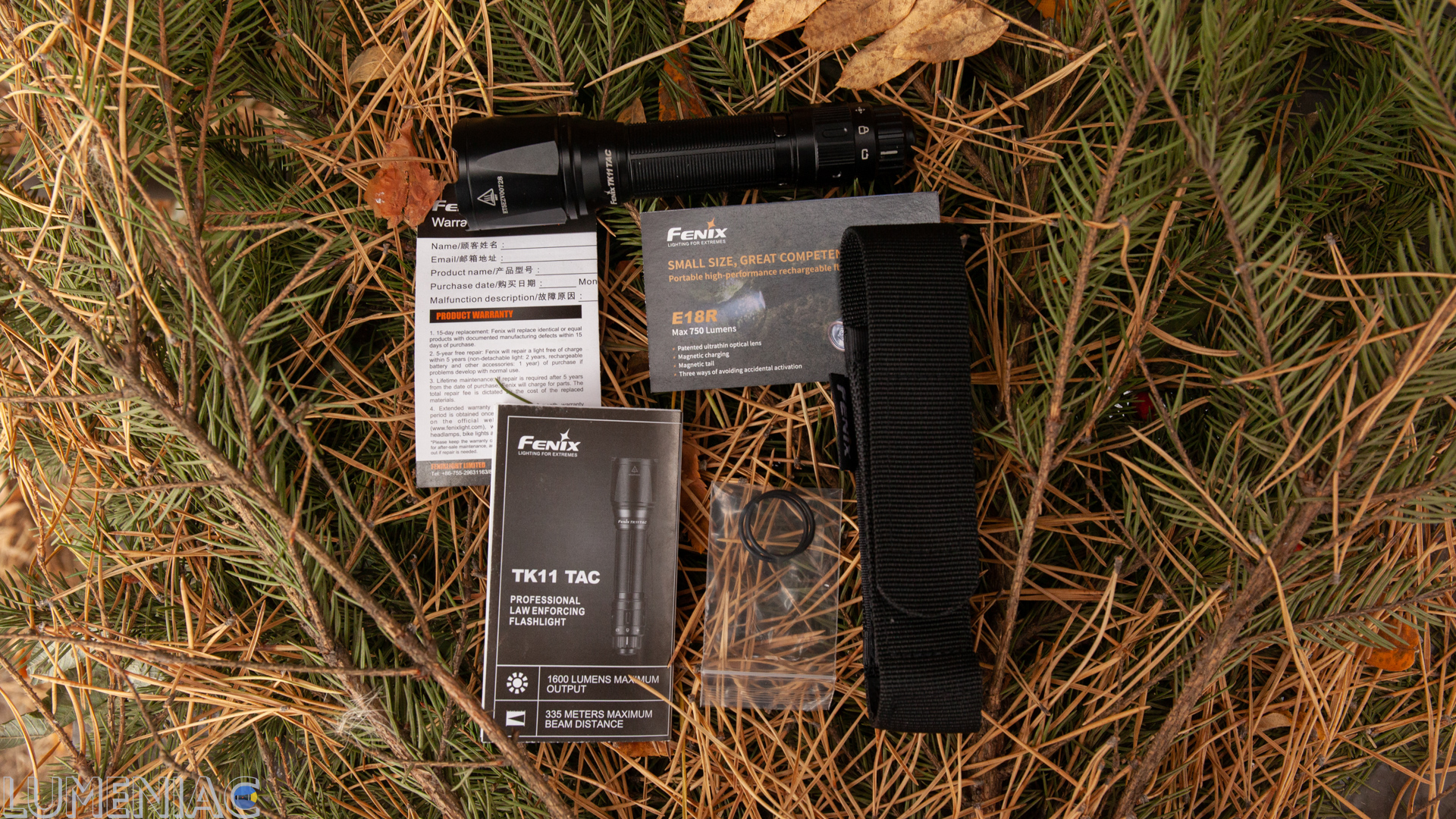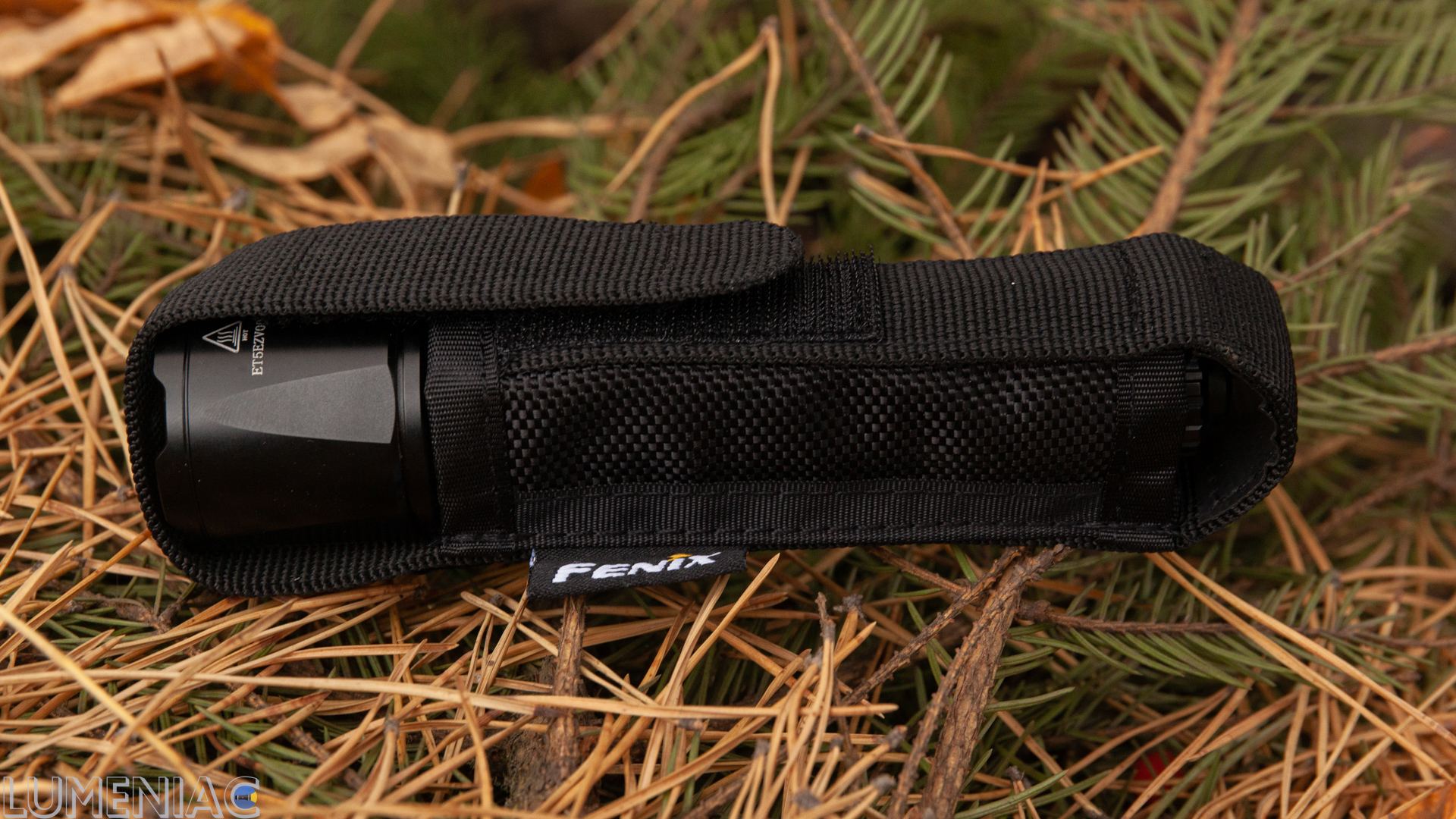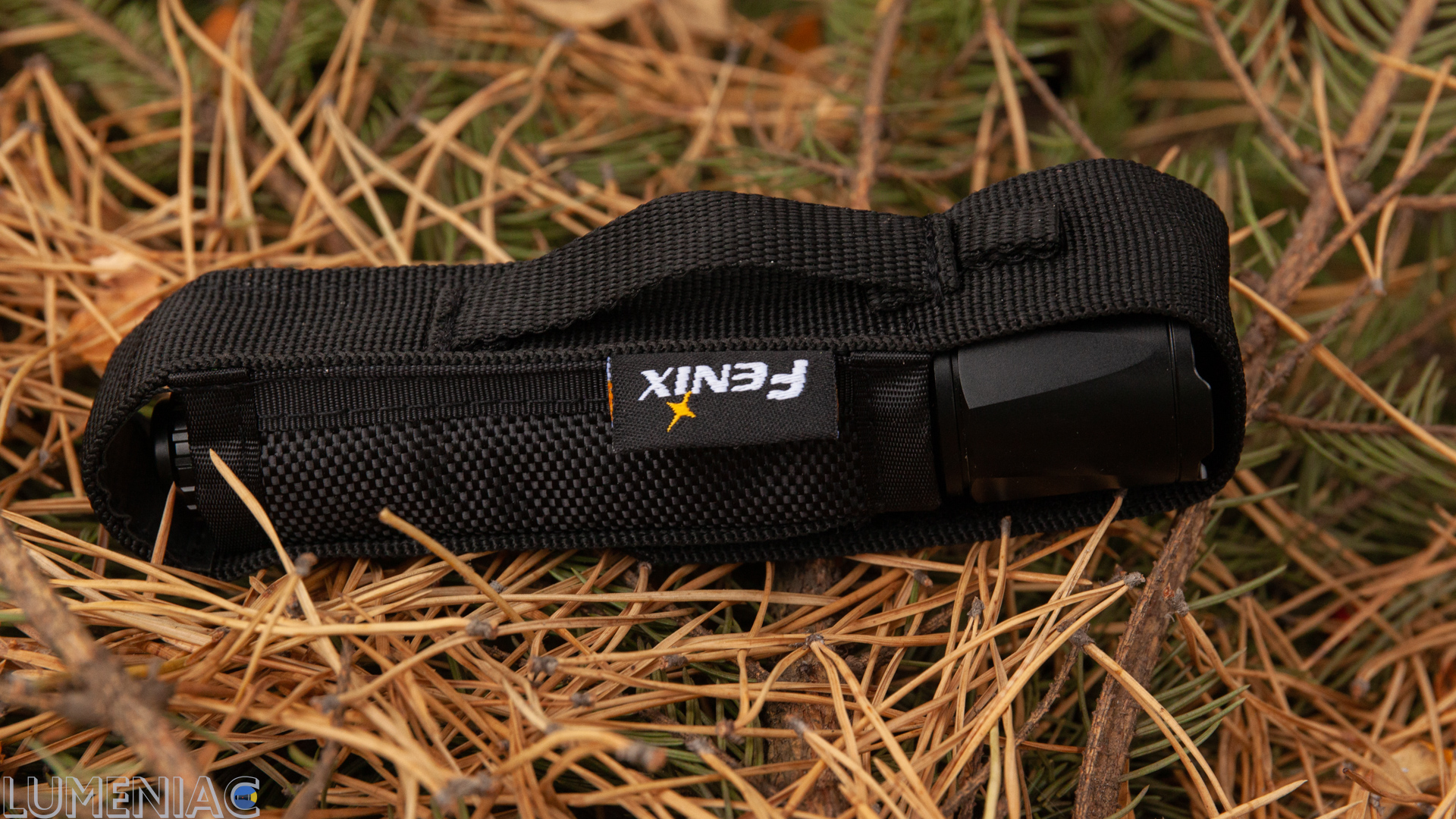 The design of the Fenix ​​TK11 TAC is pretty usual.
In general, it is clear that this is a branded model.
But there are no extraordinary design solutions here. If anything here attracts attention, then the mode switch ring at the tail button.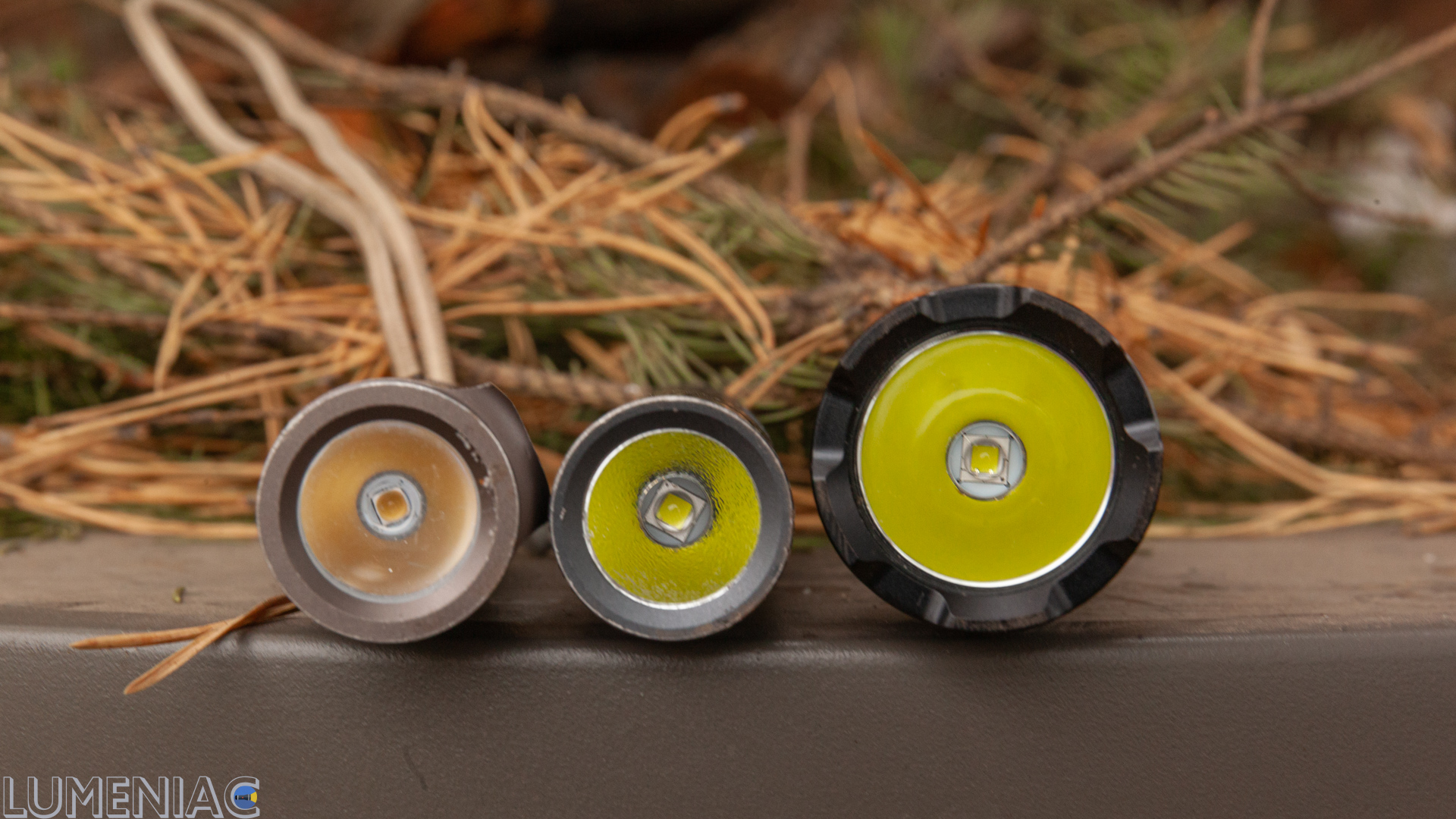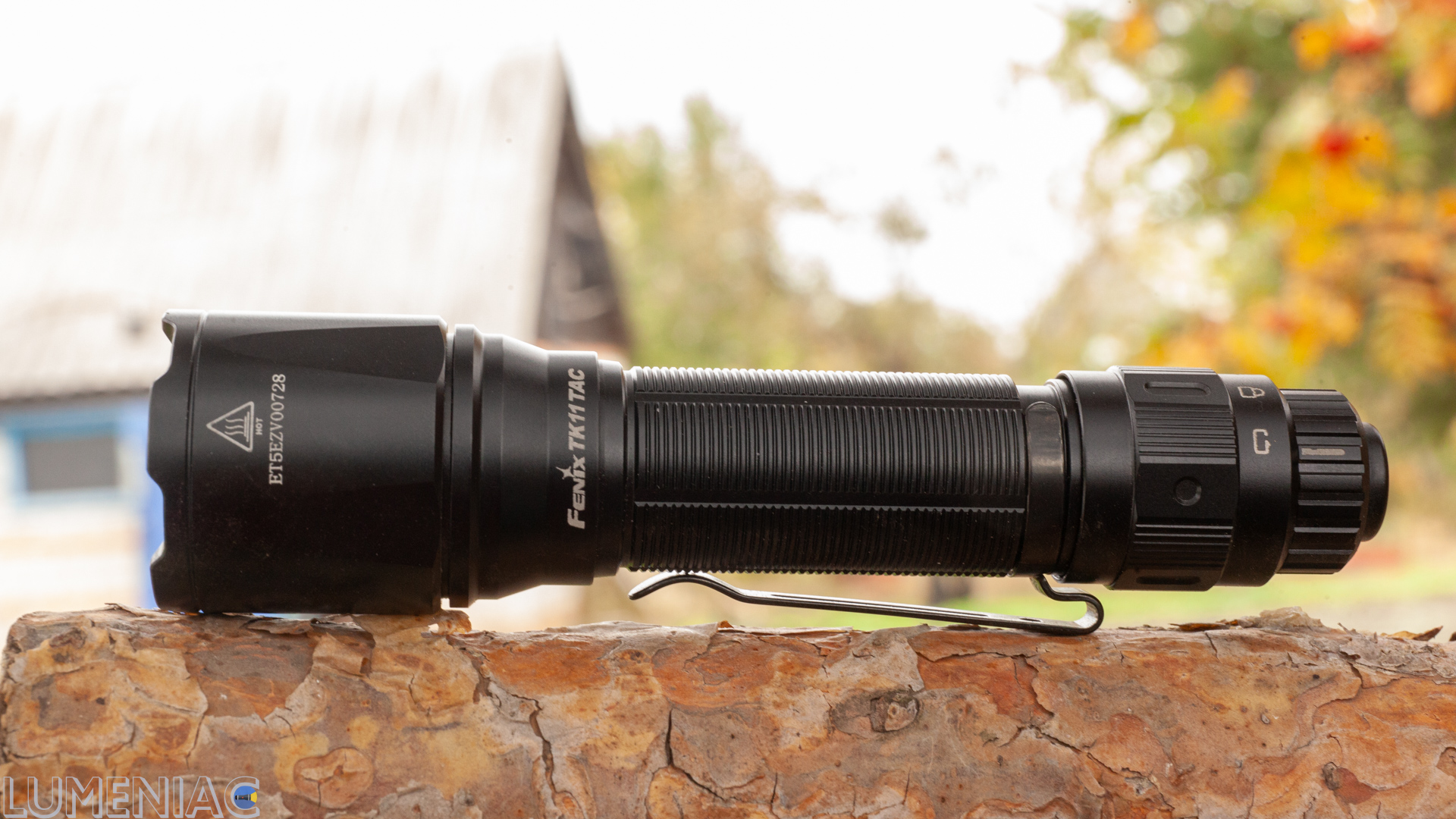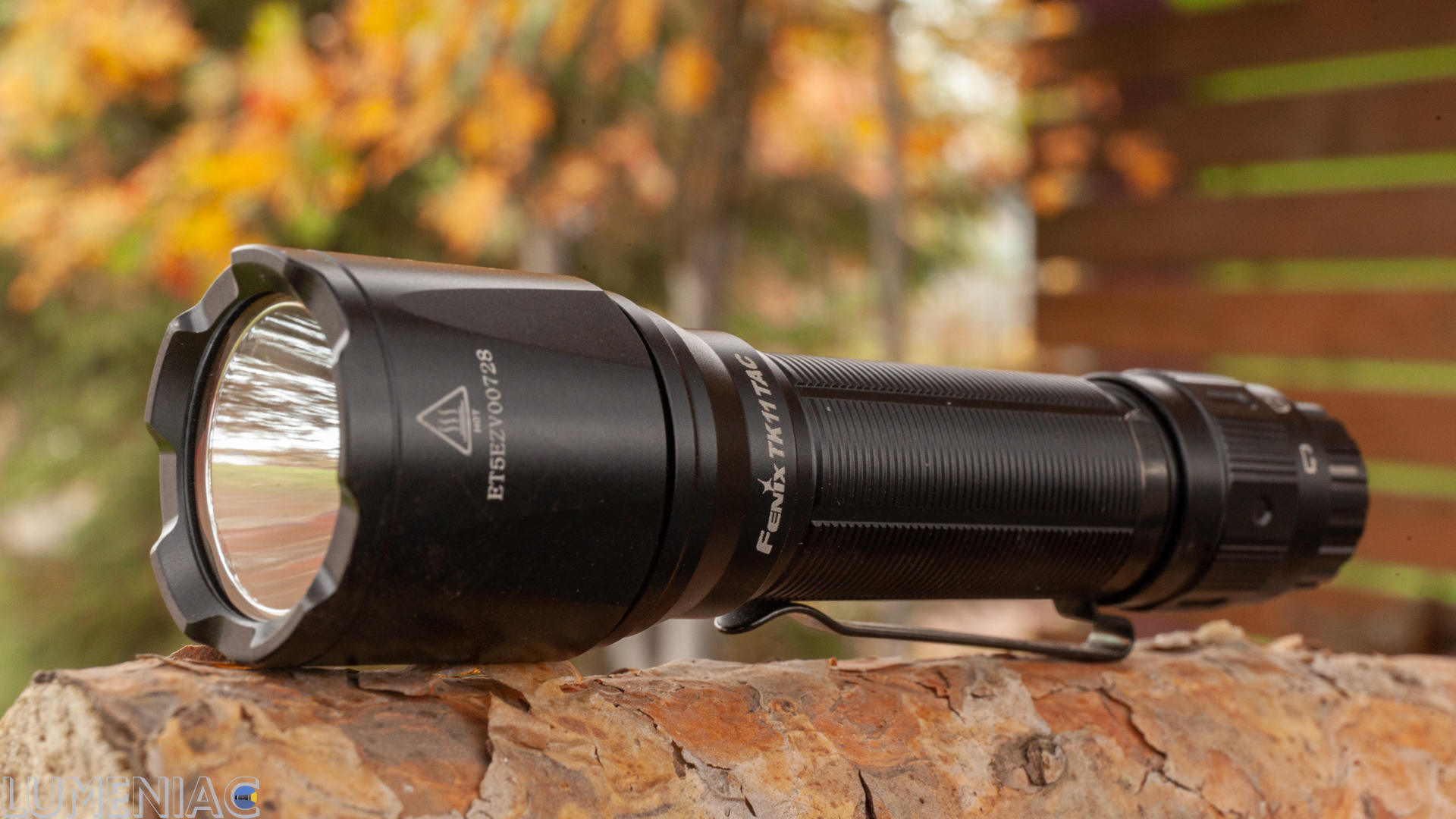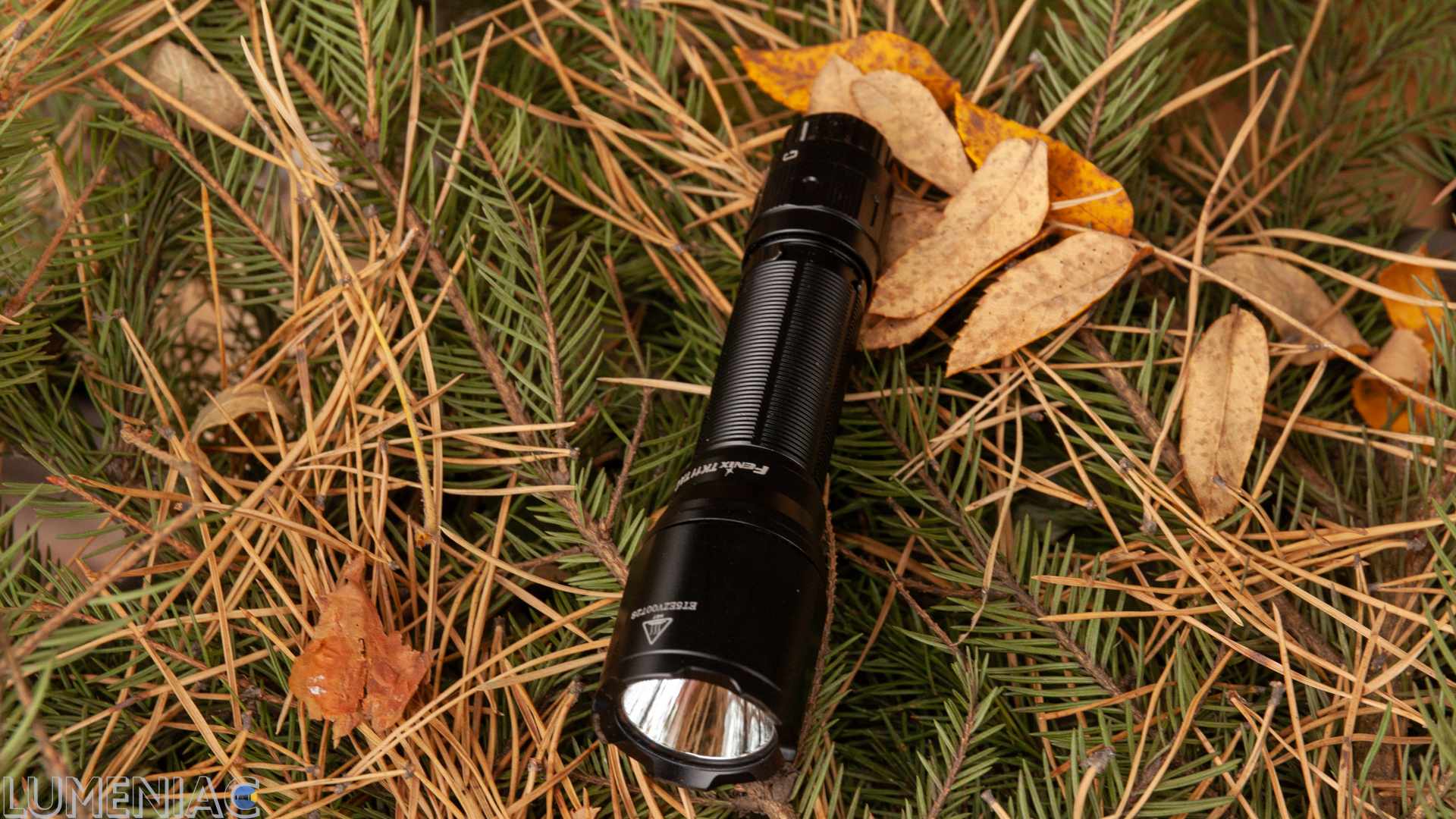 I offer to start Fenix TK11 TAC review with it, since this is the key feature.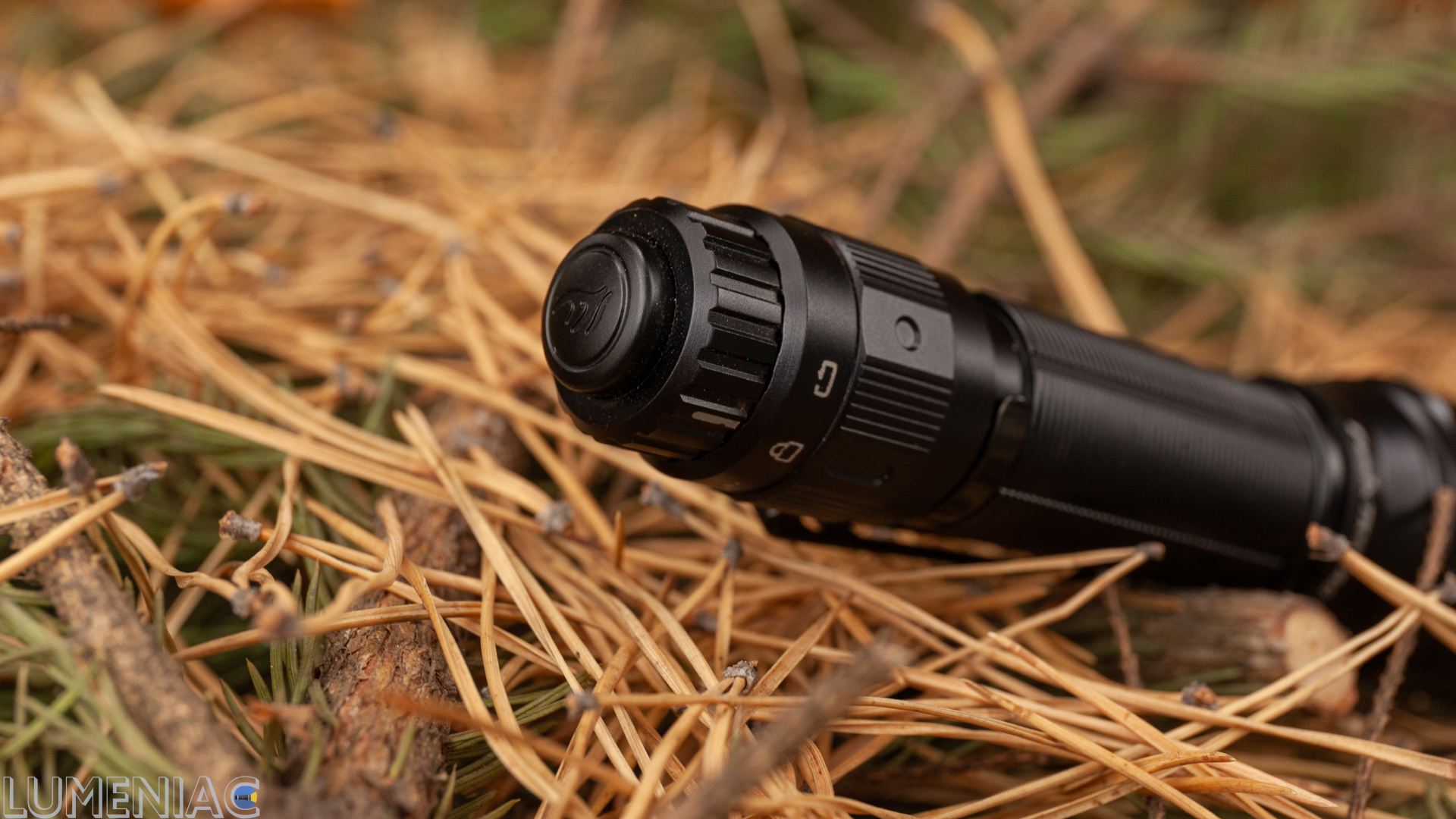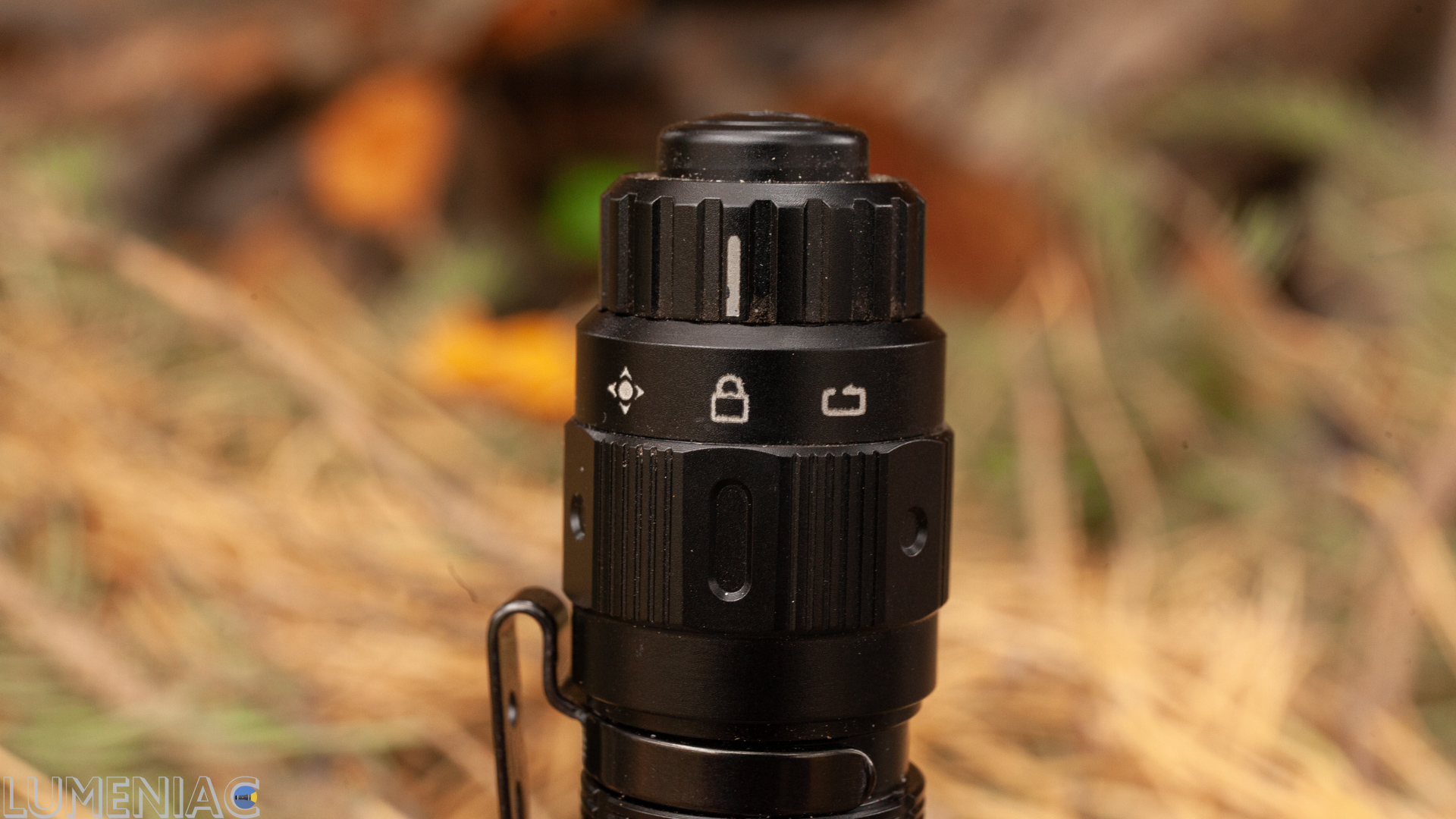 There is two-position button at the top of the tailcap. It has soft and silent half-press. But in when you push the button to the very end to lock br iightness, you can hear a light sound.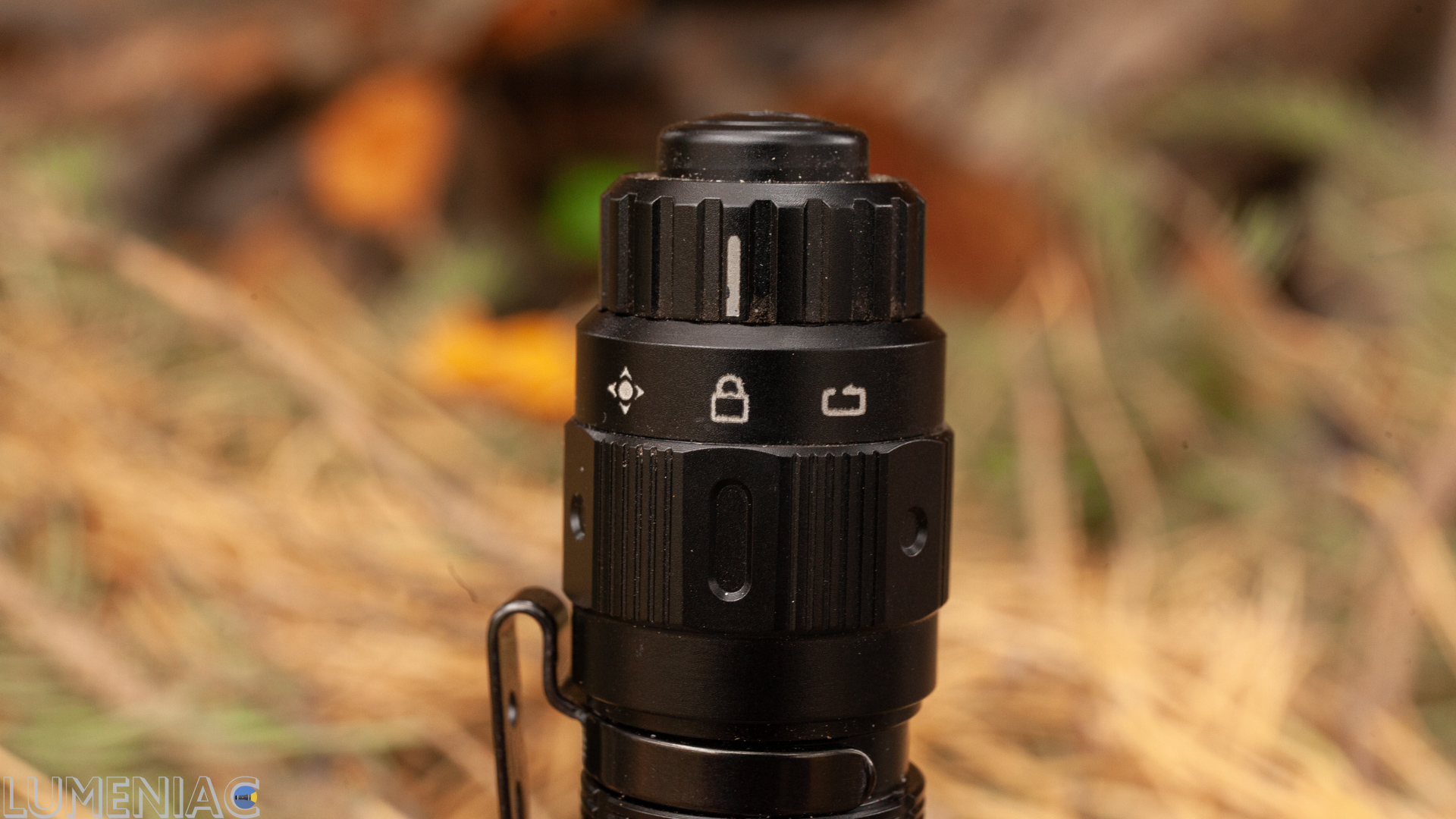 The 3-way mode switch has a tangible click and is tight enough not to worry about accidentally unlocking in pocket or backpack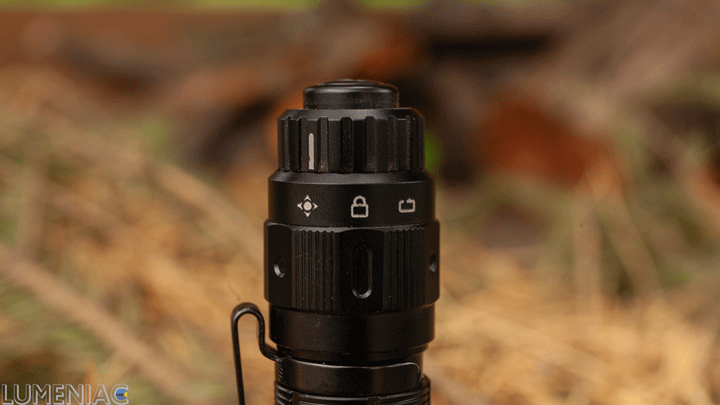 The spring at tailcap seems to be little bit thin for 1600 lumens.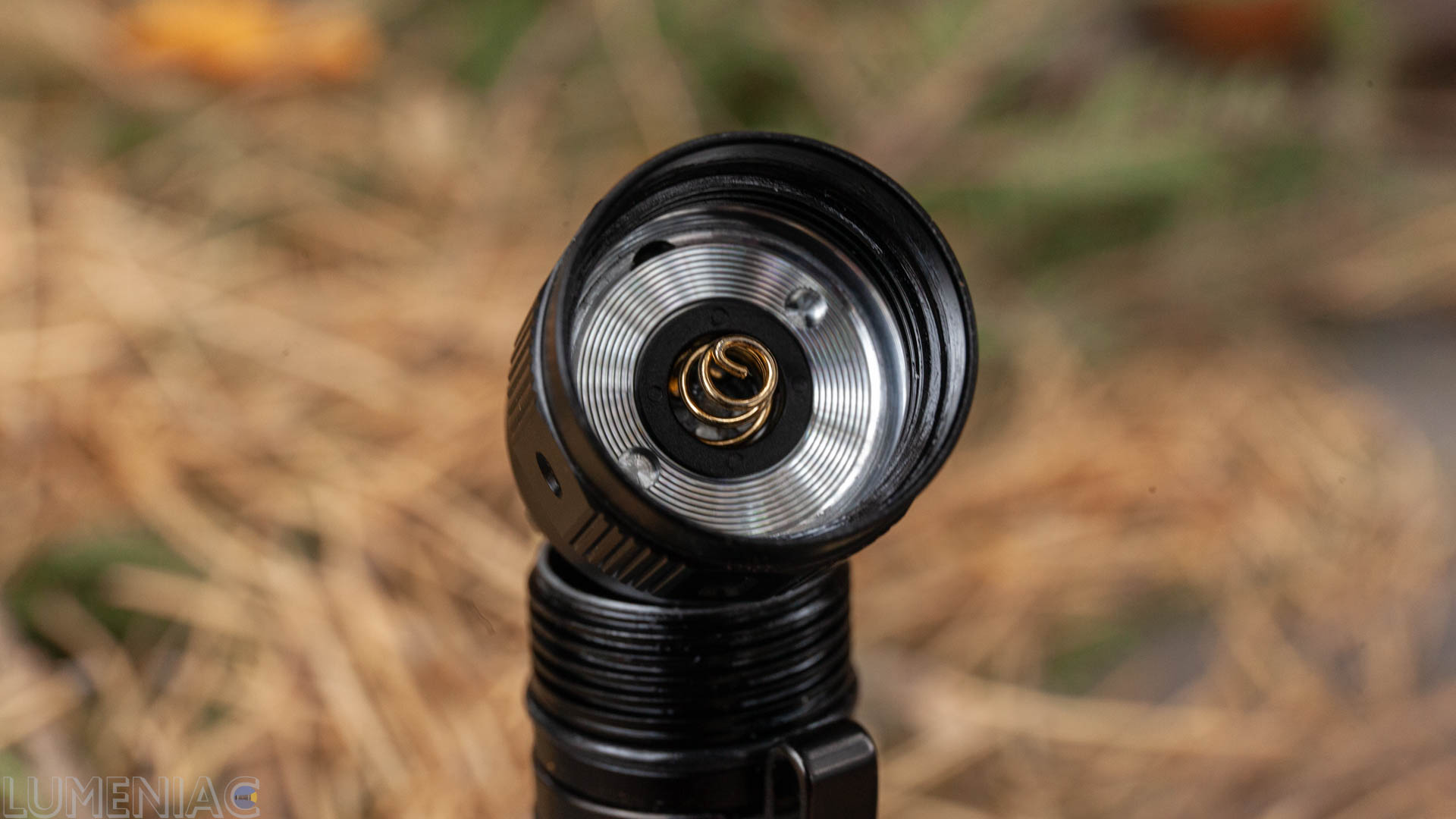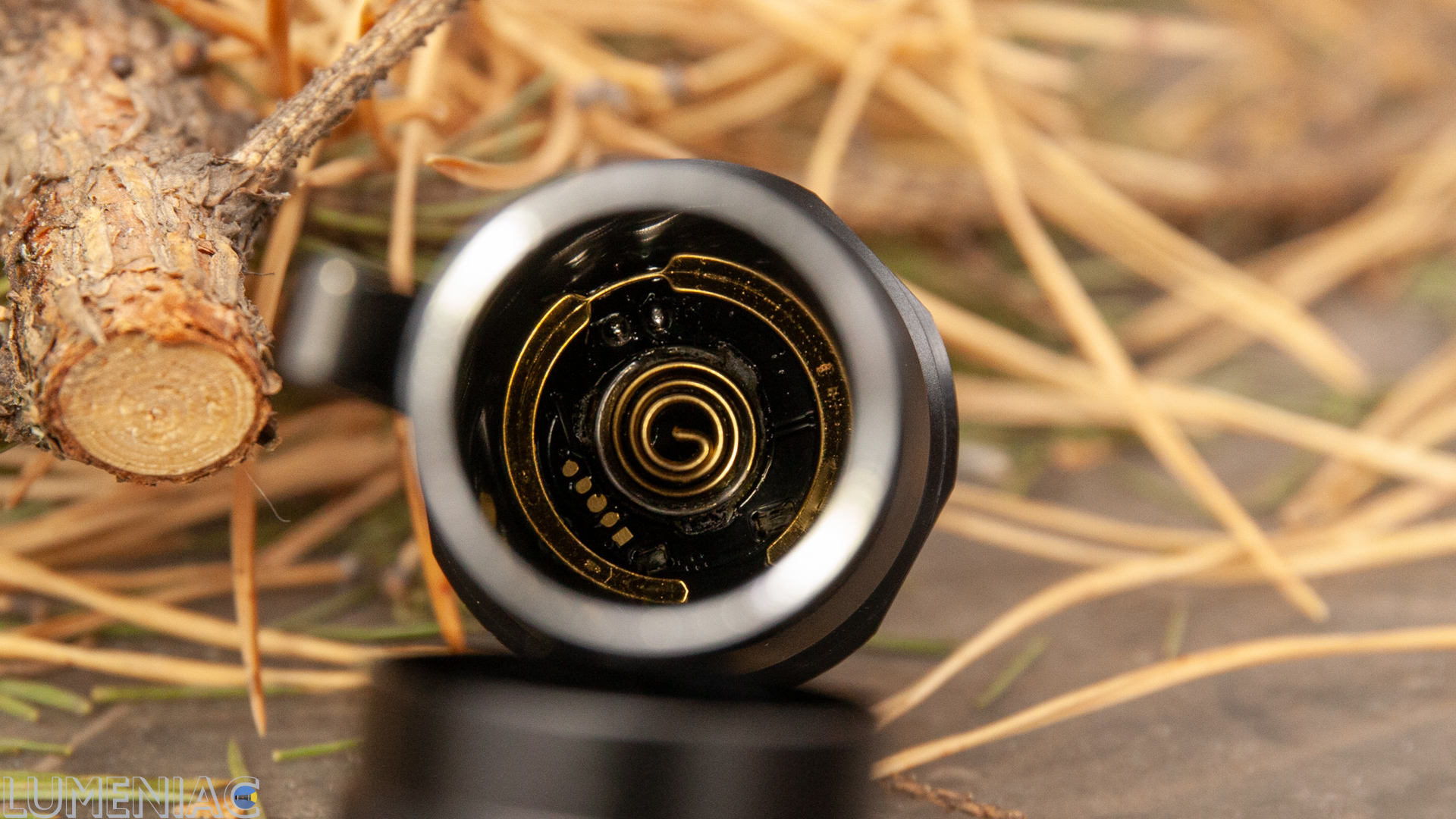 The thread is anodized and well lubricated. I can criticize Fenix for something, but I`ve never had any complaints about Fenix build qiality, it is always on highest possible level.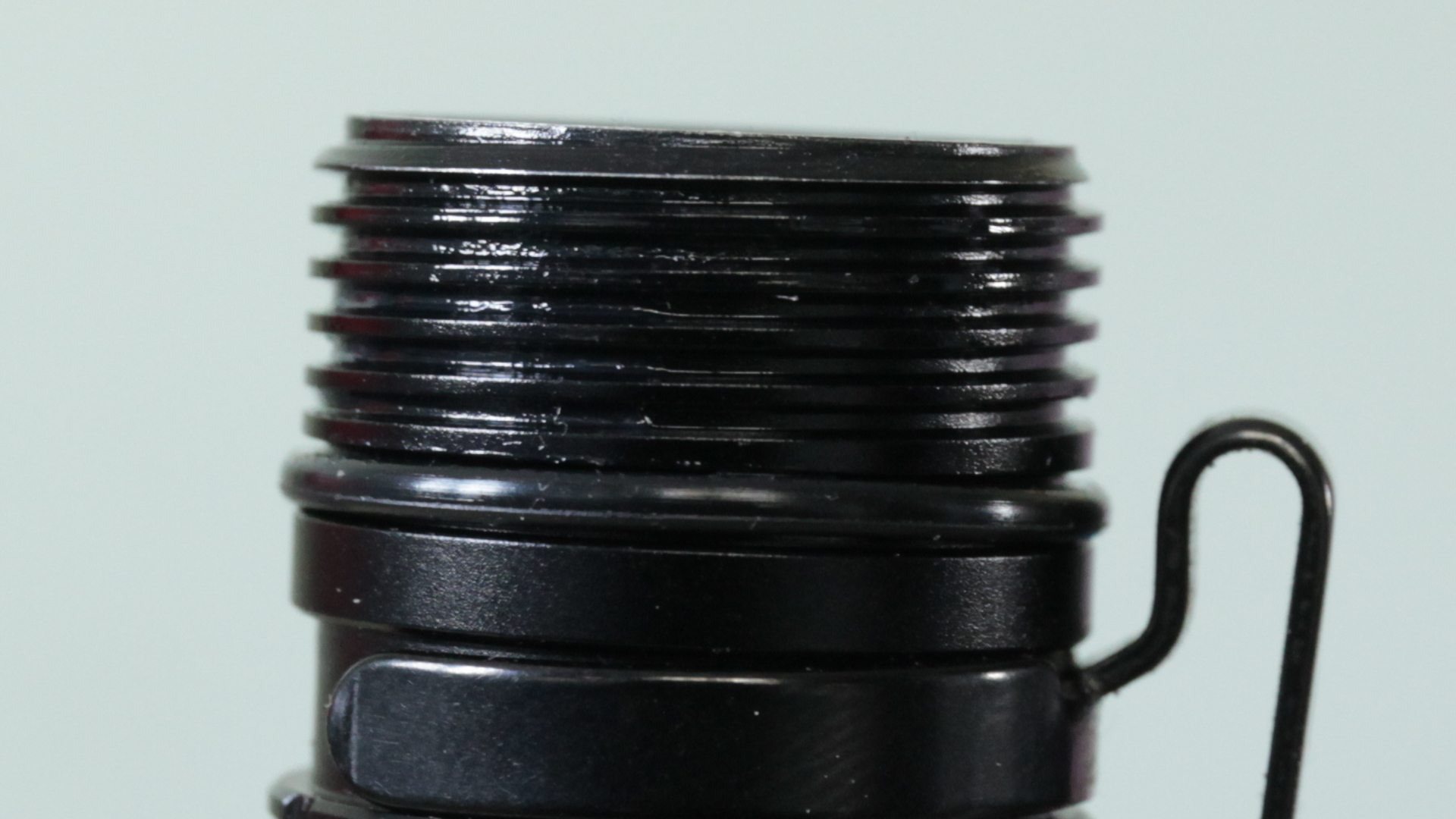 The clip is one-directional. Considering its penny price, it would be justified to put a two-way clip.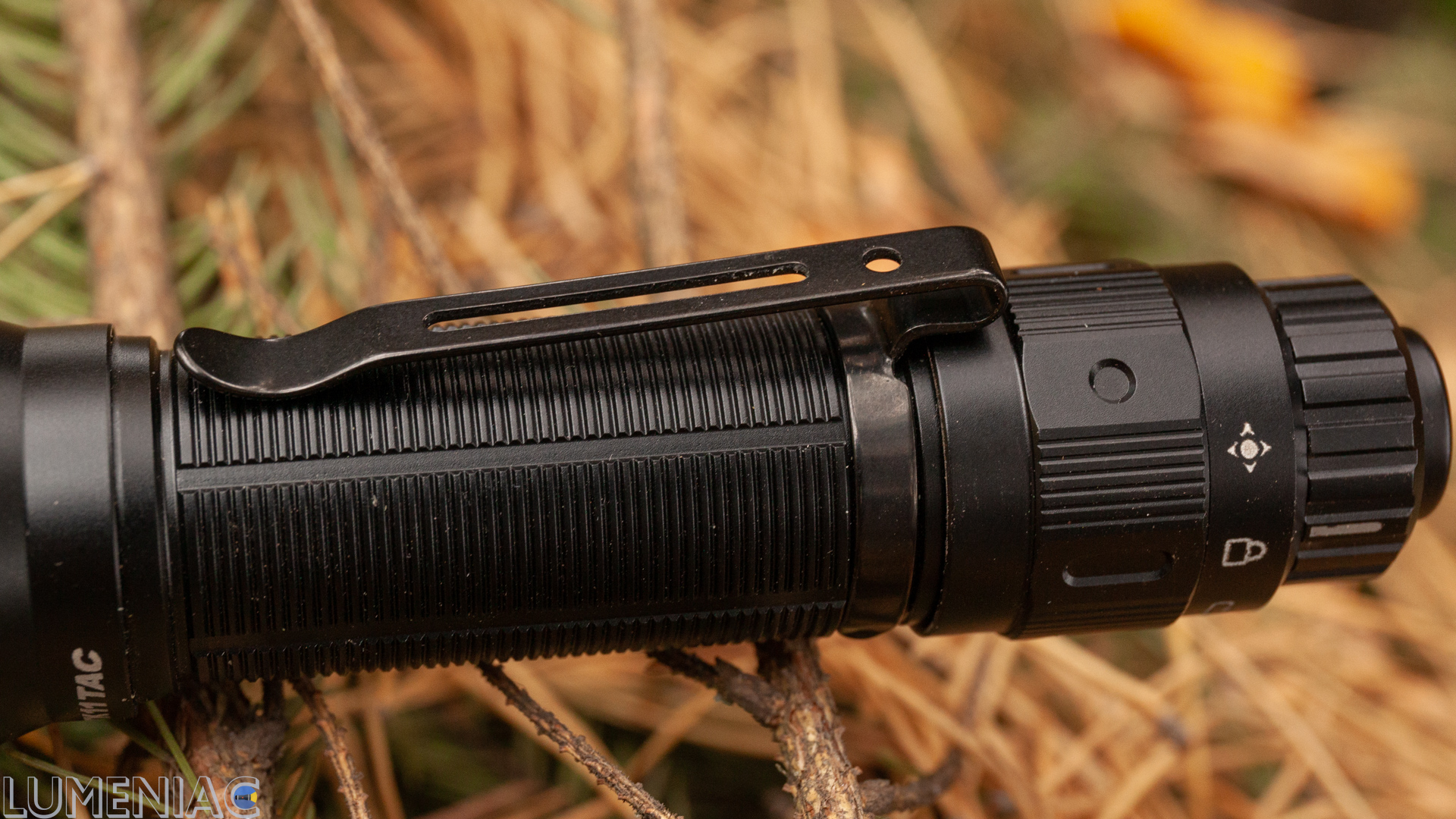 The fine concentric knurling is quite grippy. The size of the flashlight makes the grip very comfortable. U`ve got is instant access to the button from any position. It's definitely good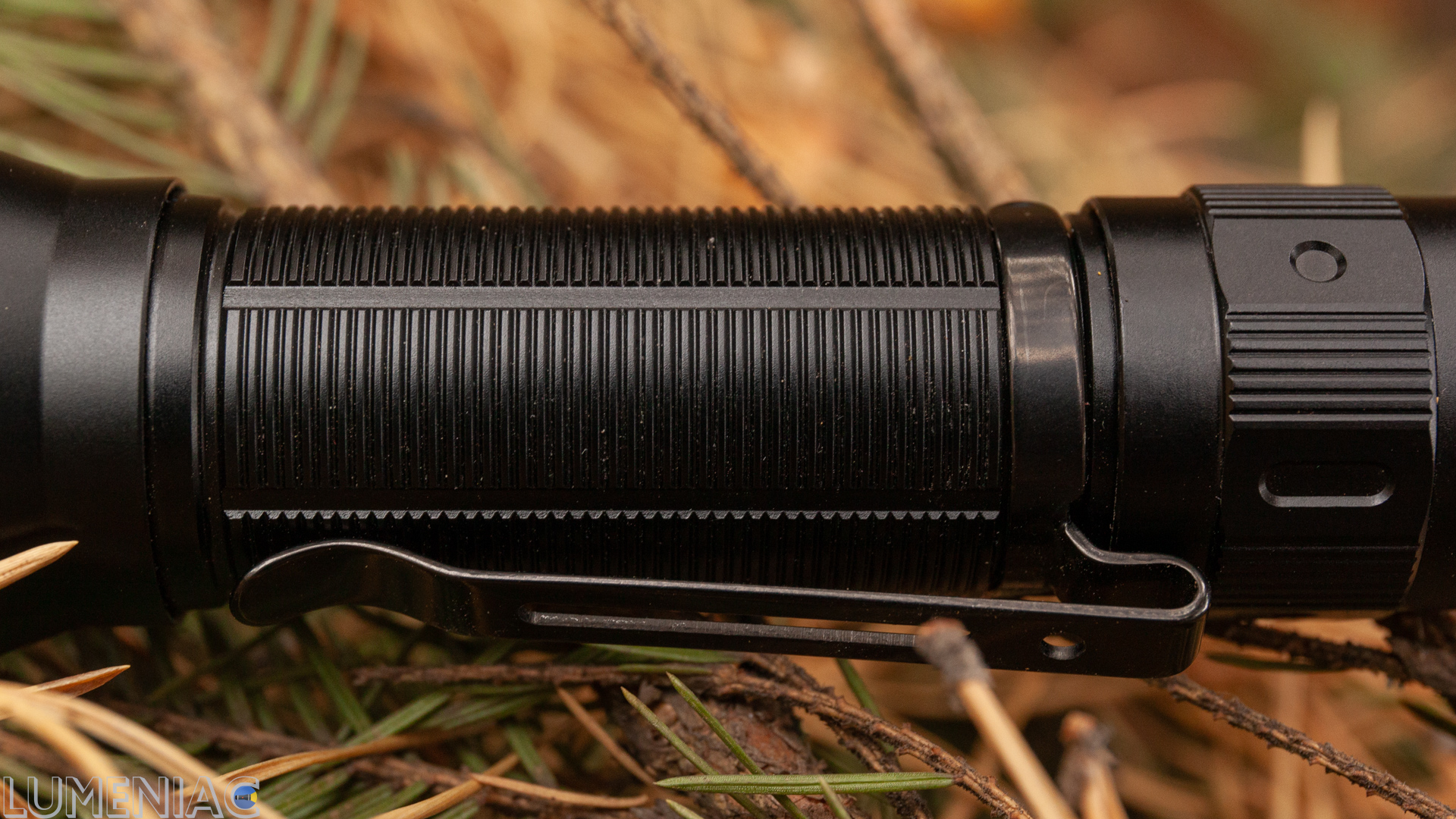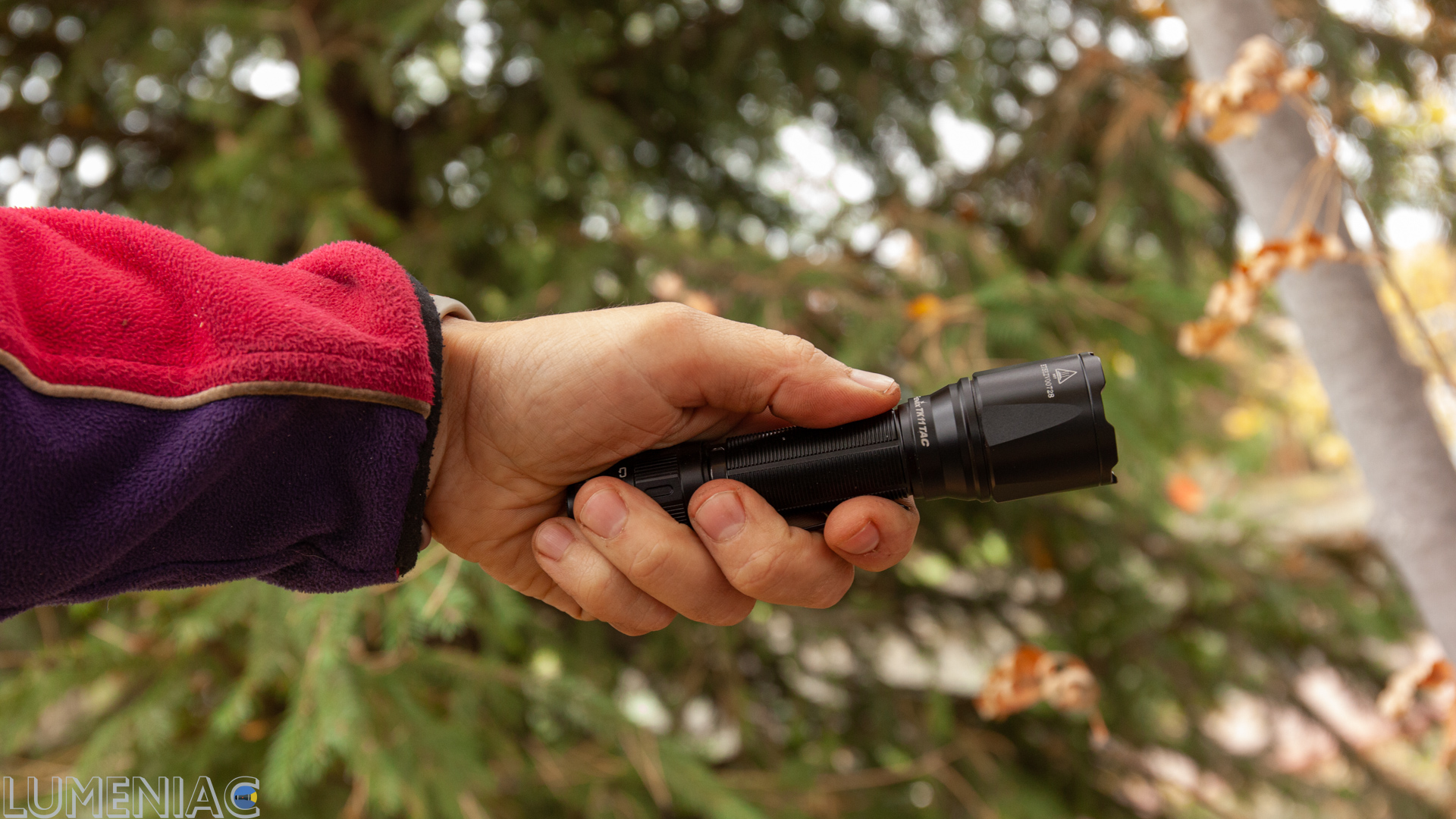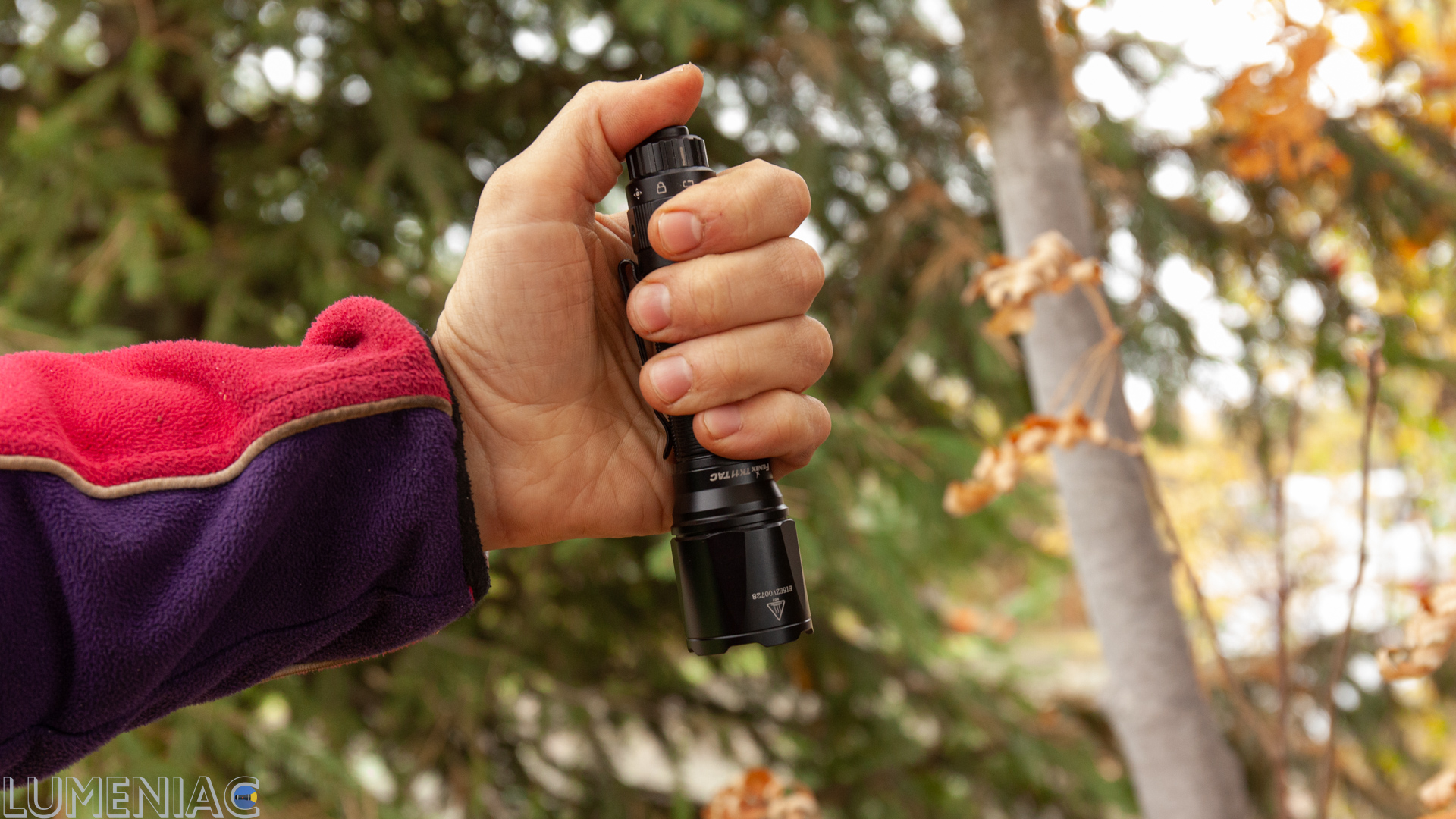 The head is medium sized and overall compact enough for a tactical flashlight.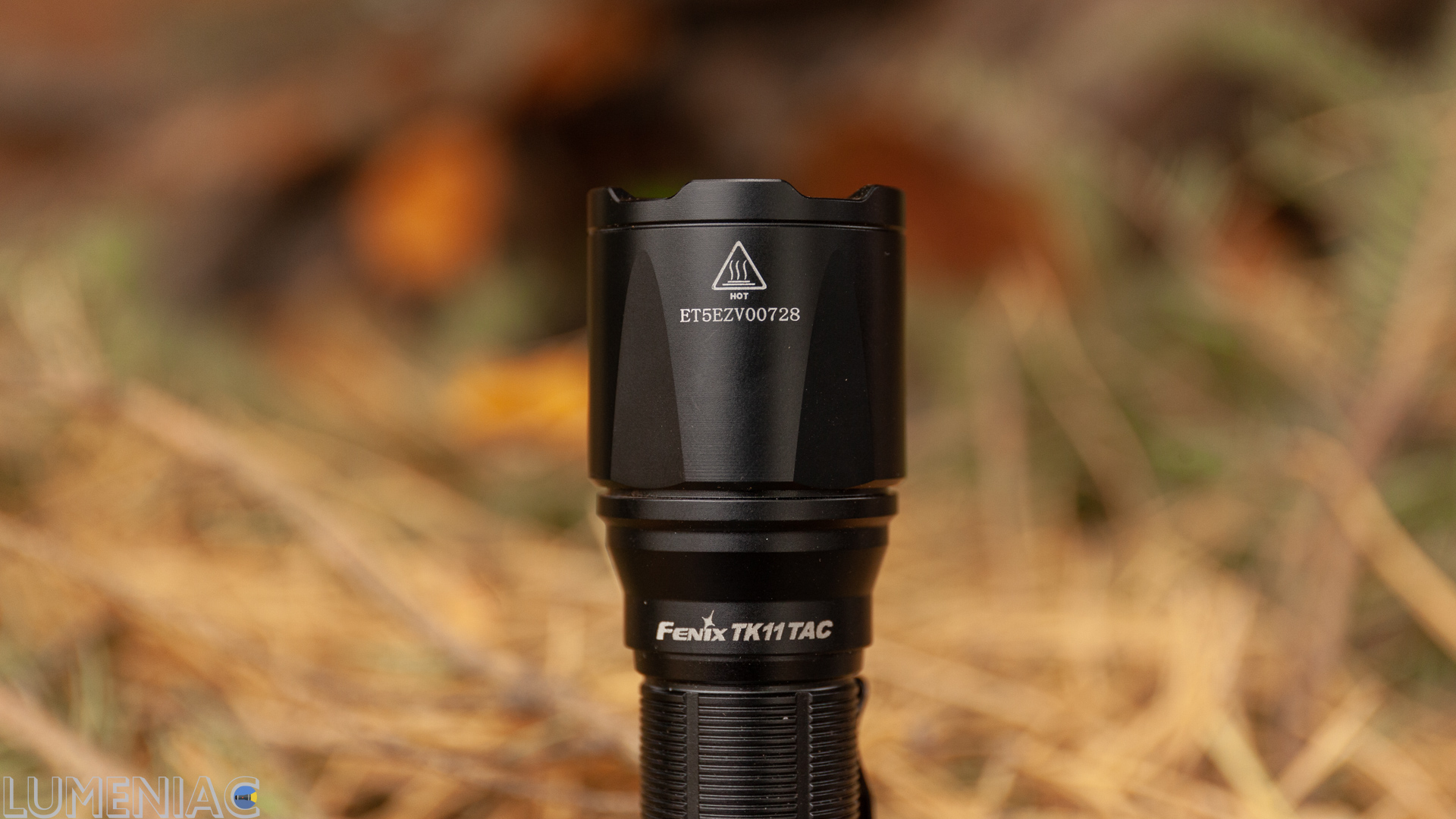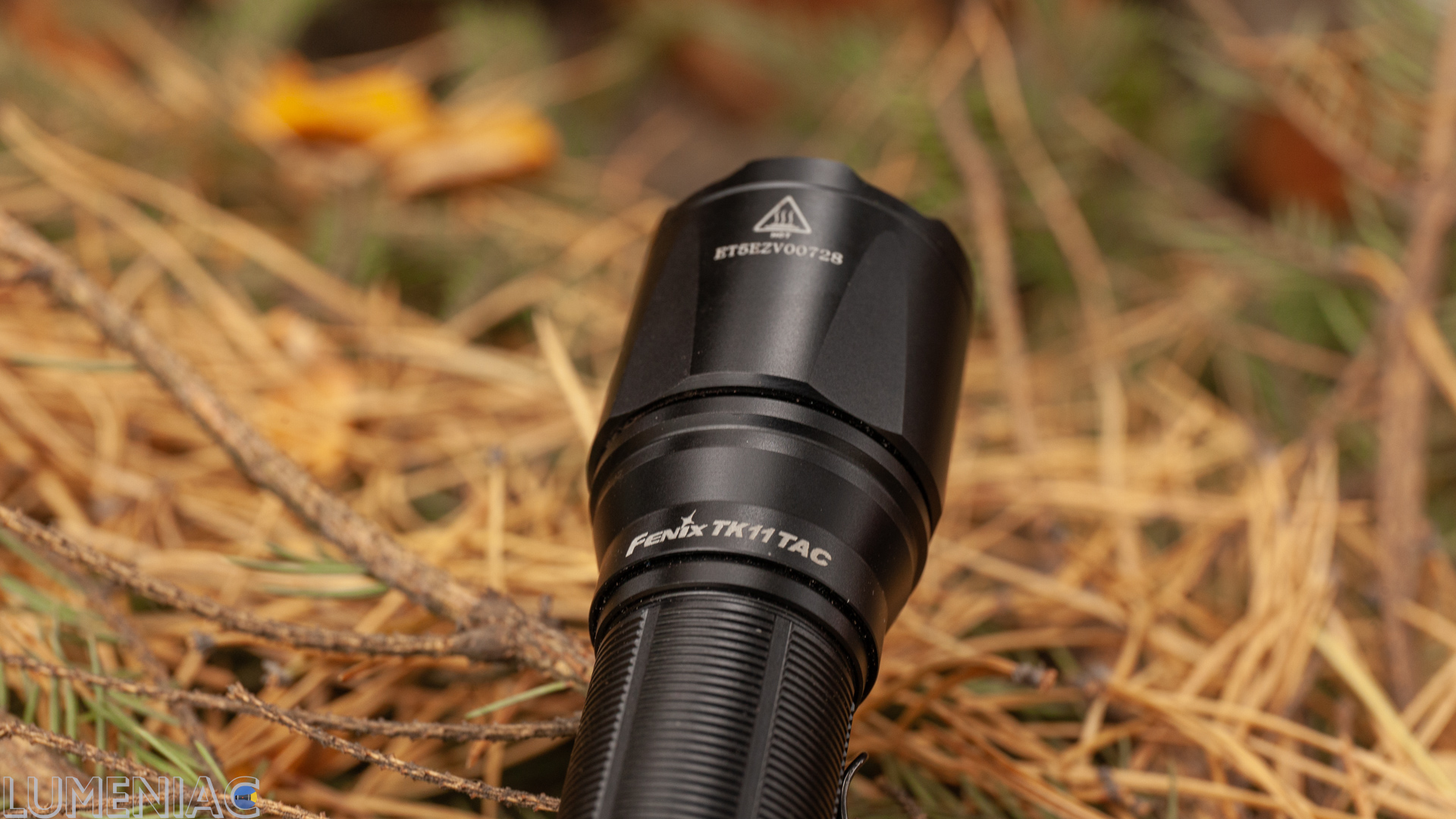 There are no real cooling fins there. This is not a problem as the efficient heat dissipation of 1600 lumens by just the fins would require radically larger size and number of them.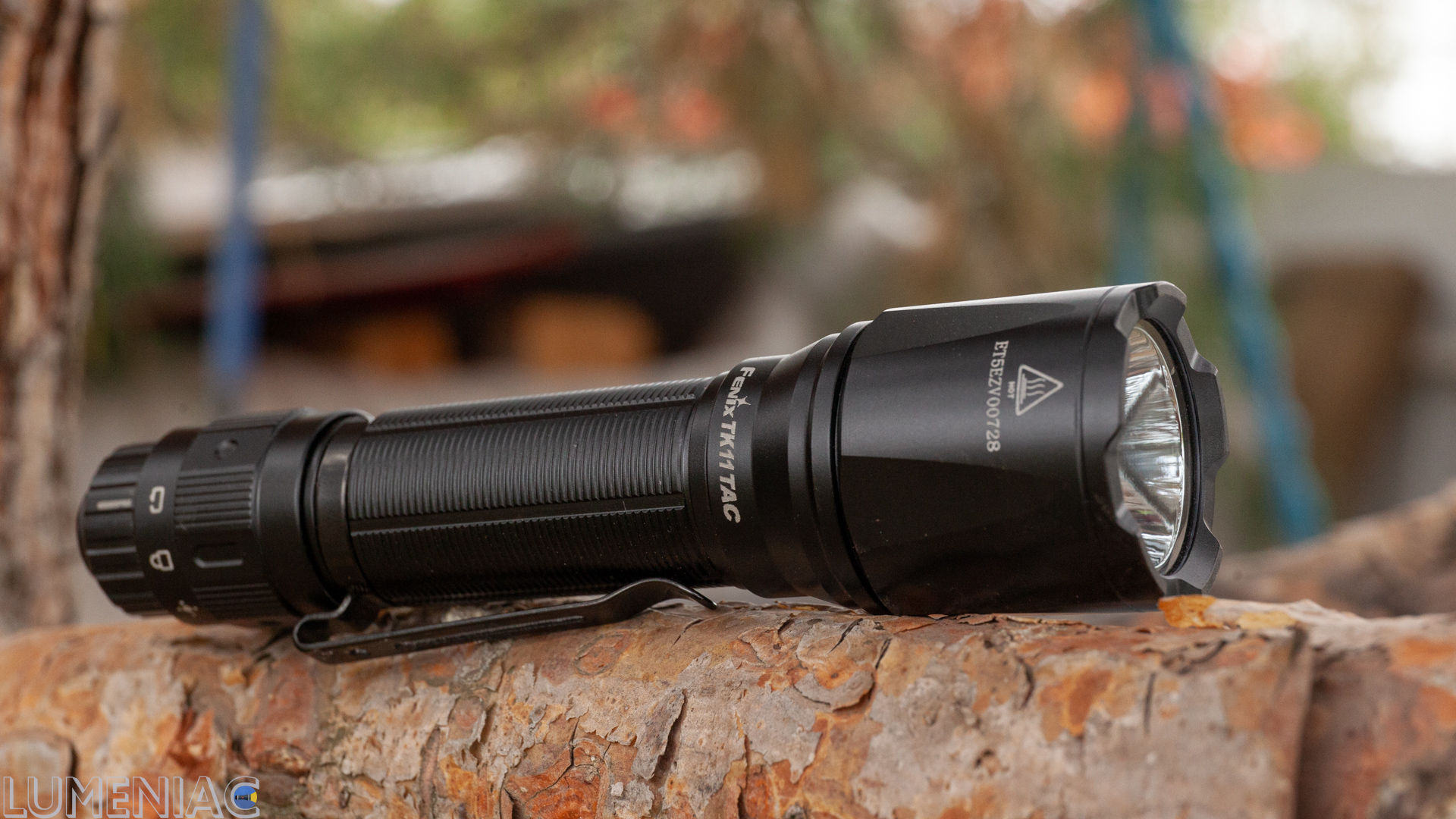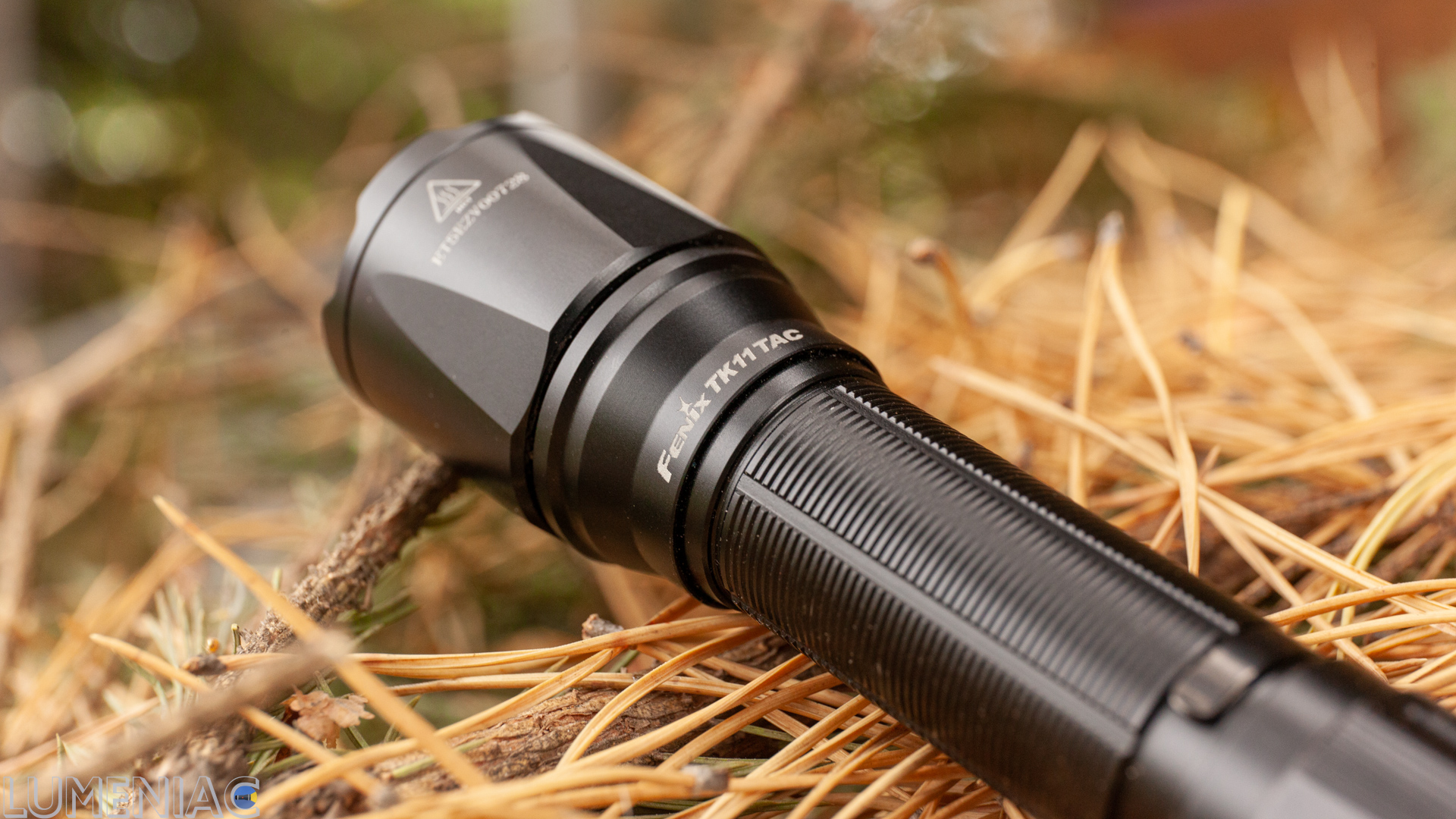 As the flashlight itself, teeth are quite compact.



glass is anti-reflective coated. There is SST40 LED under at the bottom of smooth reflector, which is slightly larger than reflector of EDC model.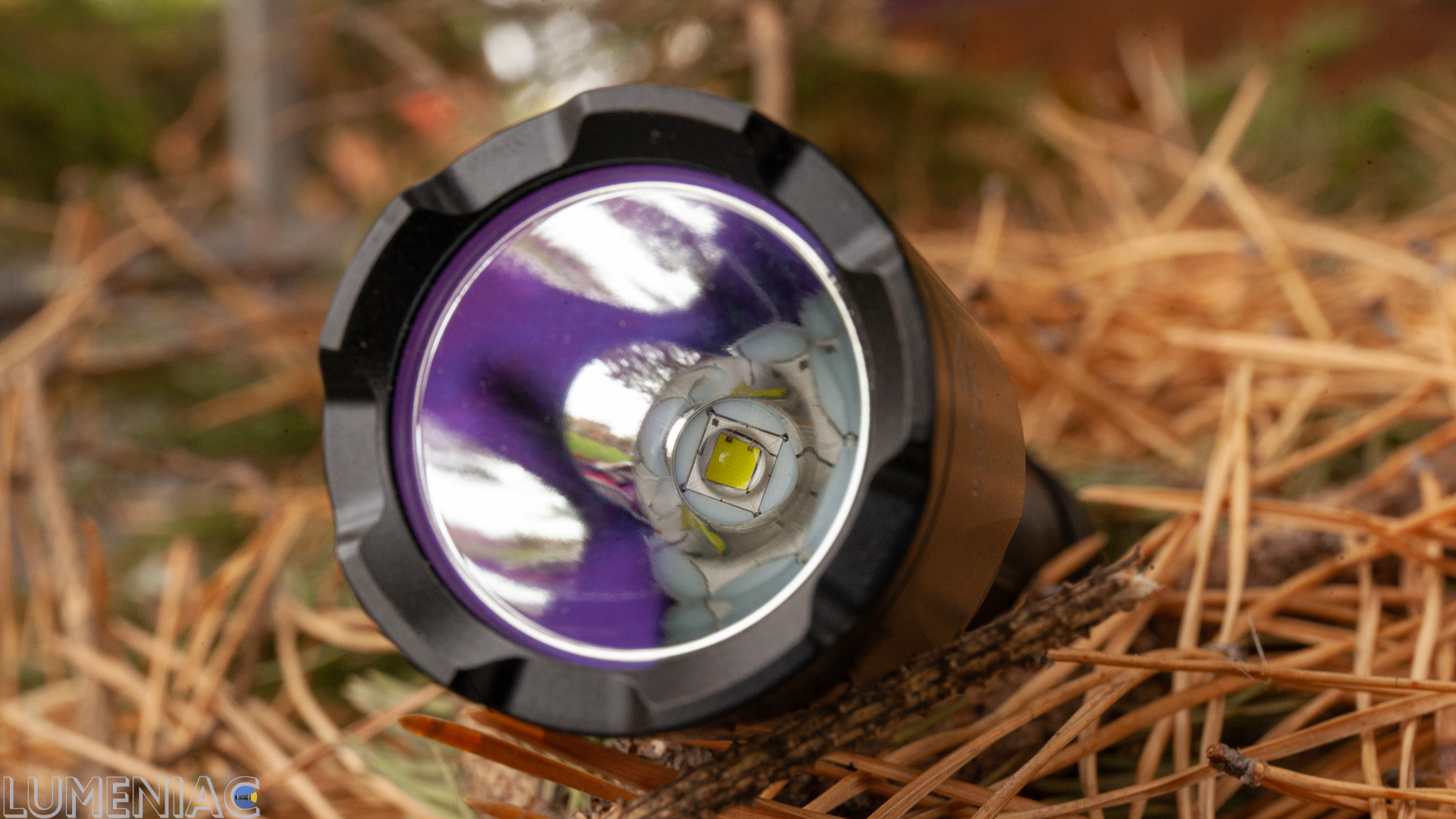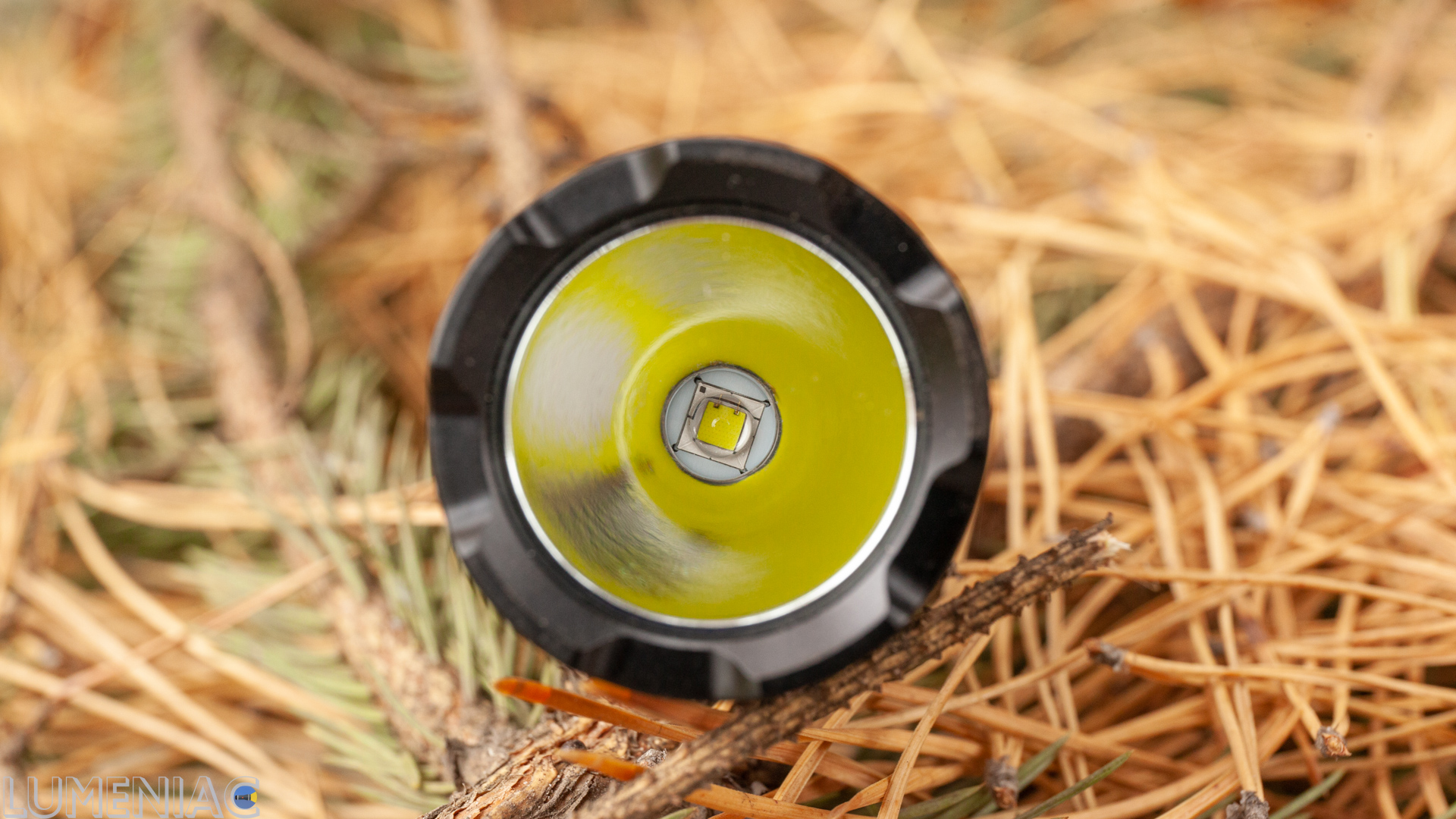 That's all at this stage. A neat flashlight with simple design.
UI


​
For me, that is Fenix's biggest weakness. IMO, of course. But there is damn lot of people who like this simplicity.
So, Fenix ​​TK11 TAC is so rare example when Fenix came up with something completely new.
Button: short light press works like half press. If you press further, the brightness will be locked in chosen mode.
If you hold button pressed for 0.8 seconds then strobe turns on.
There is modes memory.
So, as I said, the main feature here is the mode swithcing ring.
It has 3 positions
1) Central – blocking. Everything is clear here, the button simply cannot be pressed.
2) Daily modes: low-mid-high
3) Tactical mode – only strobe and High
And in such a specific way, Fenix ​​bypassed their usual lack of instant access to the lower and higher brightness.
Here you have instant access to LOW mode if you accustom yourself to turn the lashlight off in this mode every time. Even if you switch ring to tactical mode, and work in it, and then move the ring back to the "Daily" position! That is what i really couldn expect at all.
And if you need instant access to the maximum brightness, rotate mode switch ring.
Well done.
Once again, UI is peculiar. But certainly not stone age, as is usually. Regarding to what Fenix ​​usual UI, it's actually advanced.

HOW FENIX TK11 TAC ILLUMINATES

​
Cool white light, like in previous SST40 based models from my review – Fenix ​​LD30 and Fenix ​​TK22UE.
Specification, mentions some new patented technology to avoid inserting inner sleeve to conduct signal from button. I thought they hid some sort of PWM regulation but neither pen, no fan test didn reveal any sign of PWM shimmering.
I have mixed impressions of stabilization. On the one hand, I dont like the fact that such an average brightness as 500 lumens is not fully stabilized. More compact EDC flashlight Fenix ​​LD30BI has full stabilization here, unlike TK11 TAC.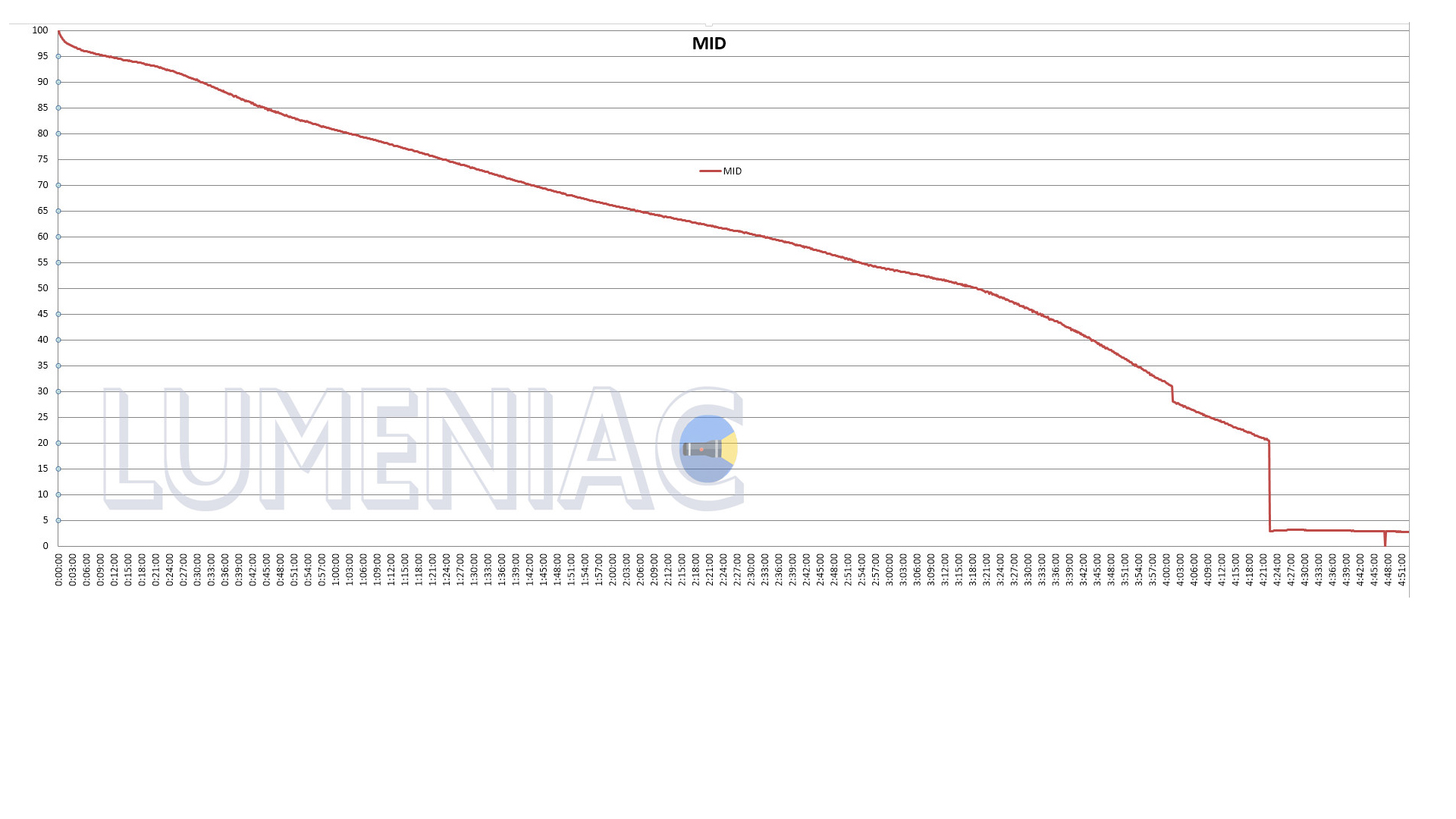 On the other hand, Fenix ​​TK11 TAC has outstanding runtime in HIGH mode. Even without cooling runtime is really much longer here than you might expect, and with cooling, flashlight pulls HIGH mode with all its might, it is obvious that the thermal cutoff threshold is raised quite high here.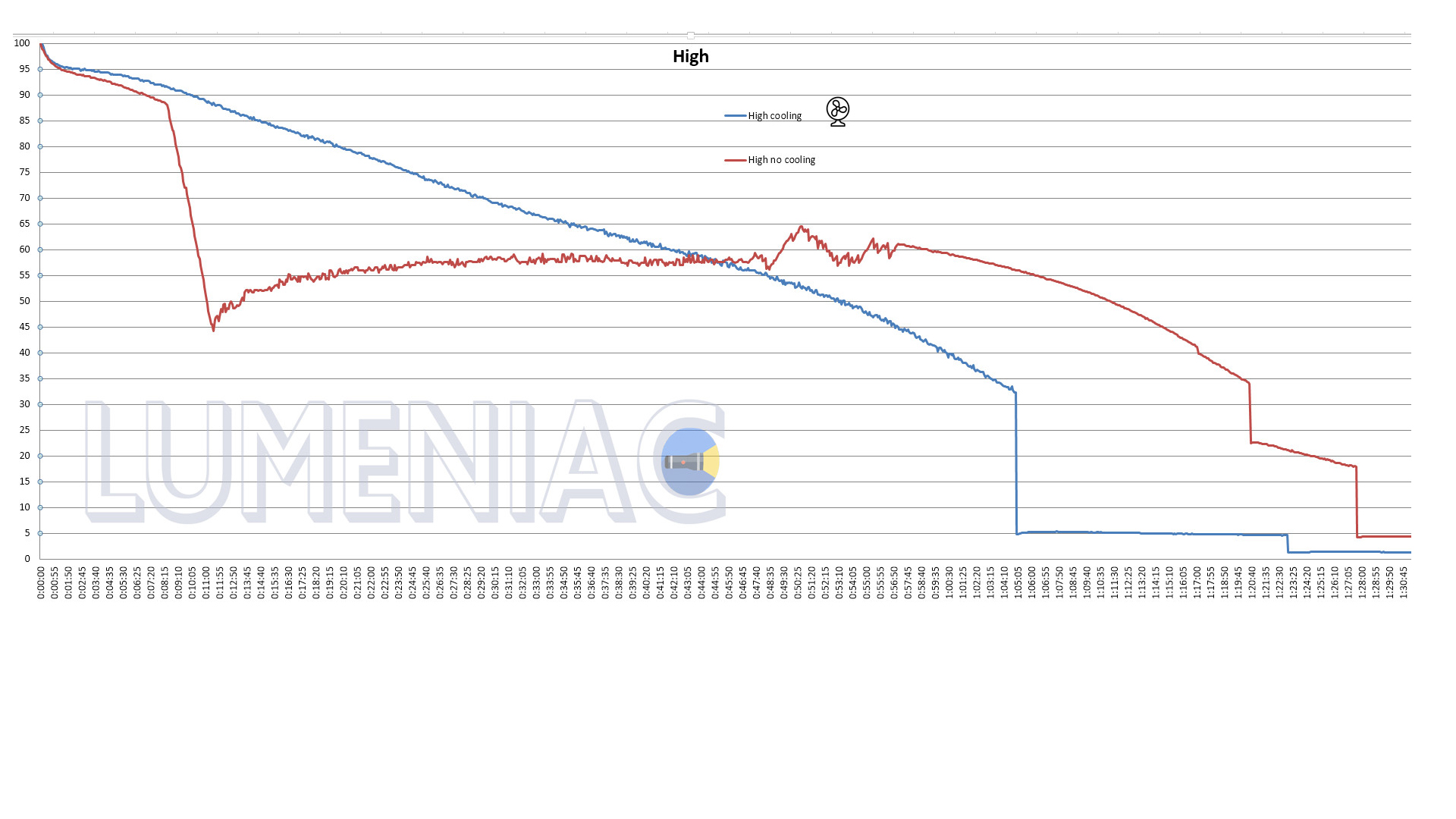 After cooling, maximum brightness restarts at full brightness, so 1600 lumens is not a useless marketing number from specs that is available only with a fully charged battery. you can also see that thermal regulation keep brightness almost stabilized when i tested flashlight in room temperature. And when i checked it outdoor with, at 11 degrees Celsium, brightess tented to grow up.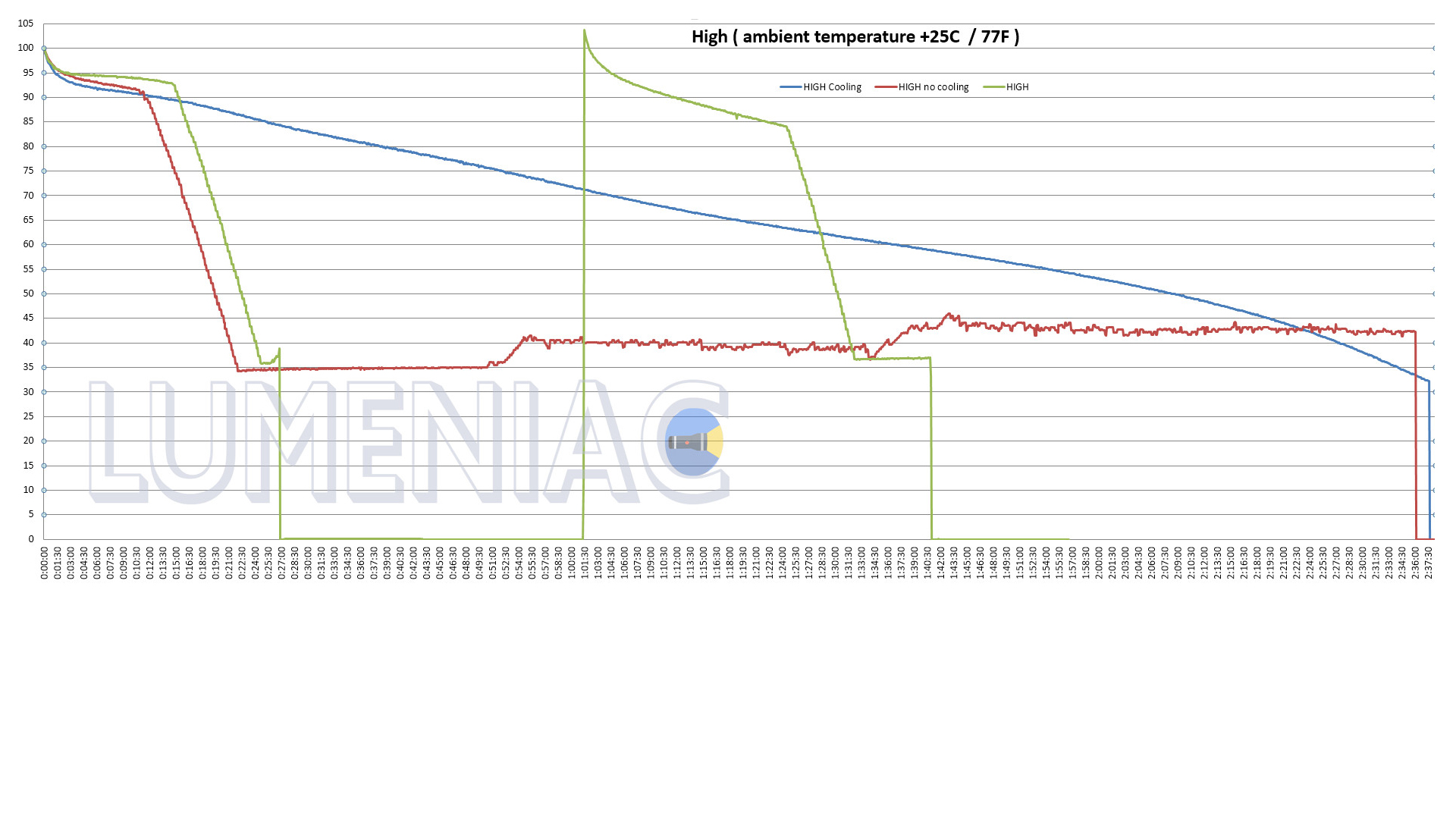 The Fenix ​​TK11 TAC allows you get fullest use of maximum for a long time.
To be fair, I must note that 10 minutes at a brightness of about 1500-1600 lumens for such a flashlight is too much and I would not use it for a long time to work in this mode. However, if something happens – my experience let me fully rely on Fenix warranty support.
Geenerally, i`ve got no complaints for light itself, with the exception of the lack of moonlight (or ECO in Fenix names it), it is tolerable. LOW is quite good to highlight the road in front of you , while MID is a decent level, with which you can confidently shine within a radius of about fifty meters. And HIGH mode covers all the illumination needs within radius of like 150, perhaps 200m.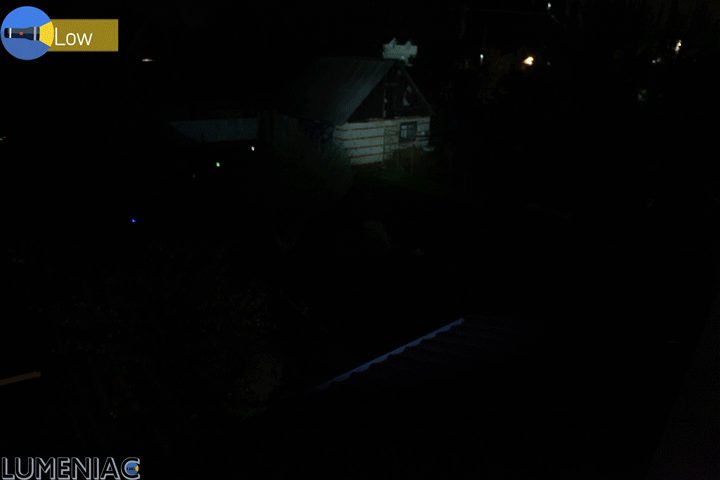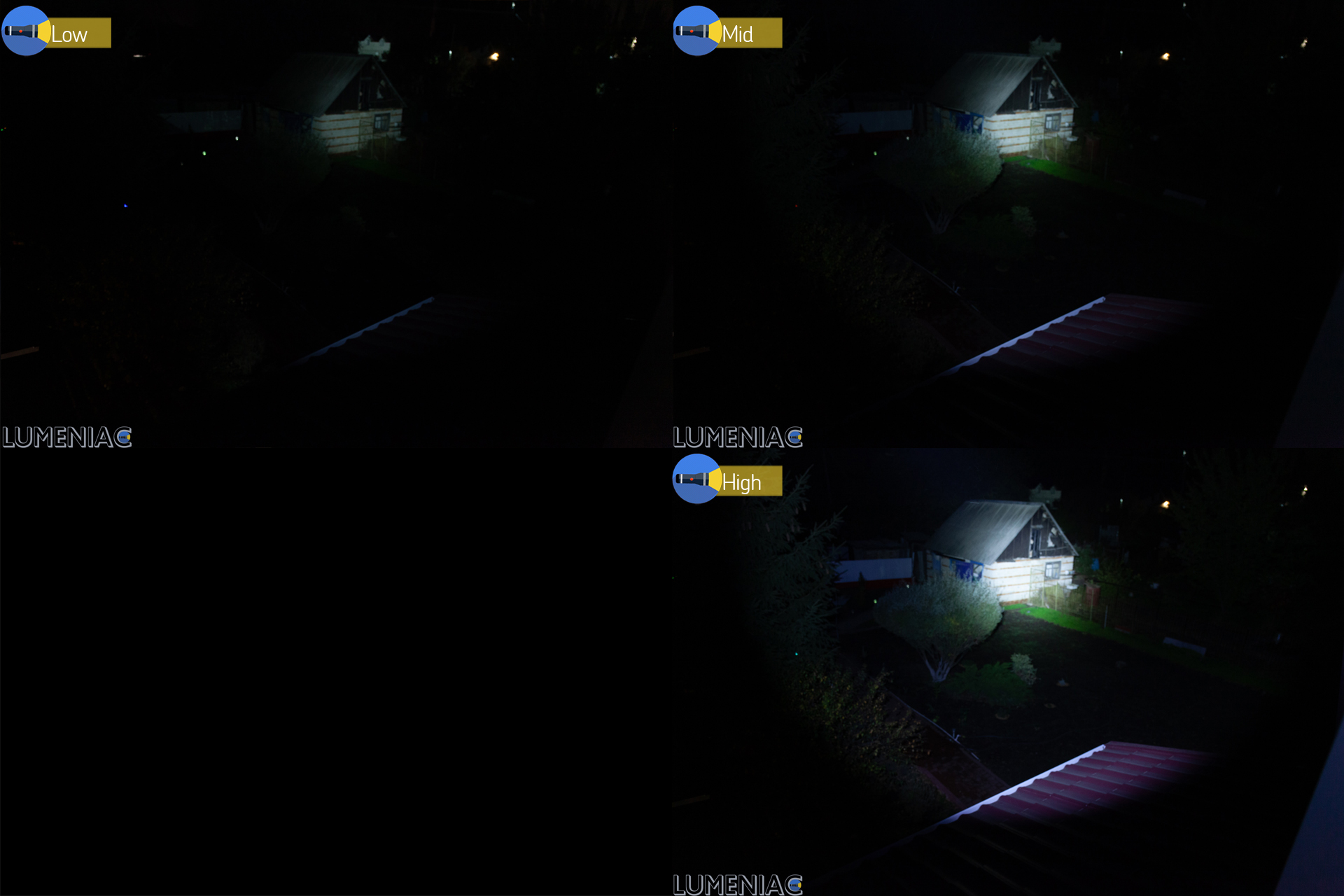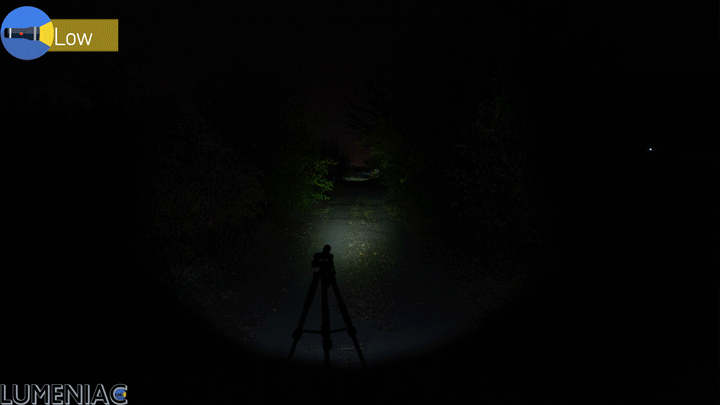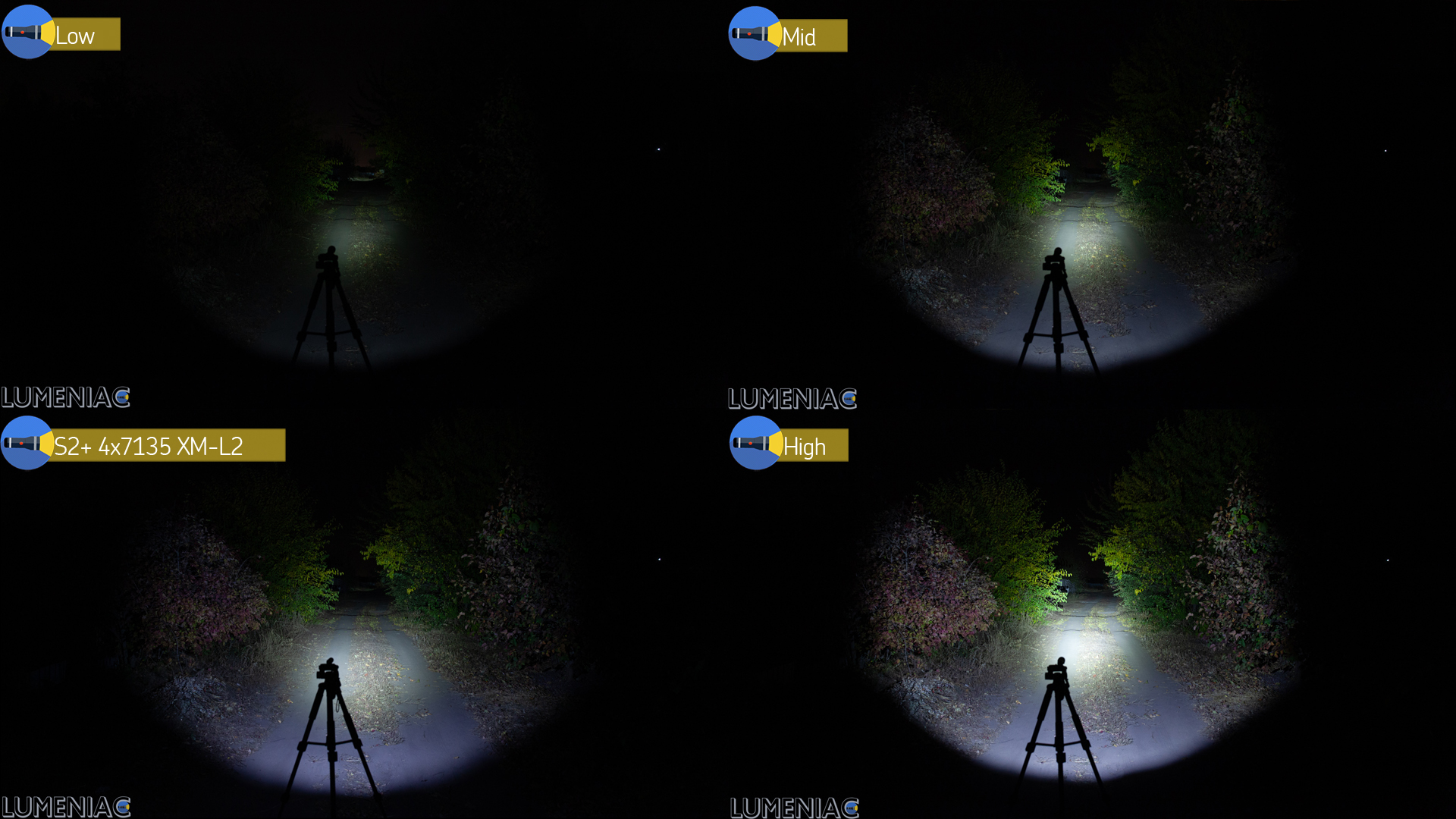 meet the new hero of my reviews, Mr. Tree. Now you will see it often, i`ll use this spot to illustrate what sort of flood light flashlight has.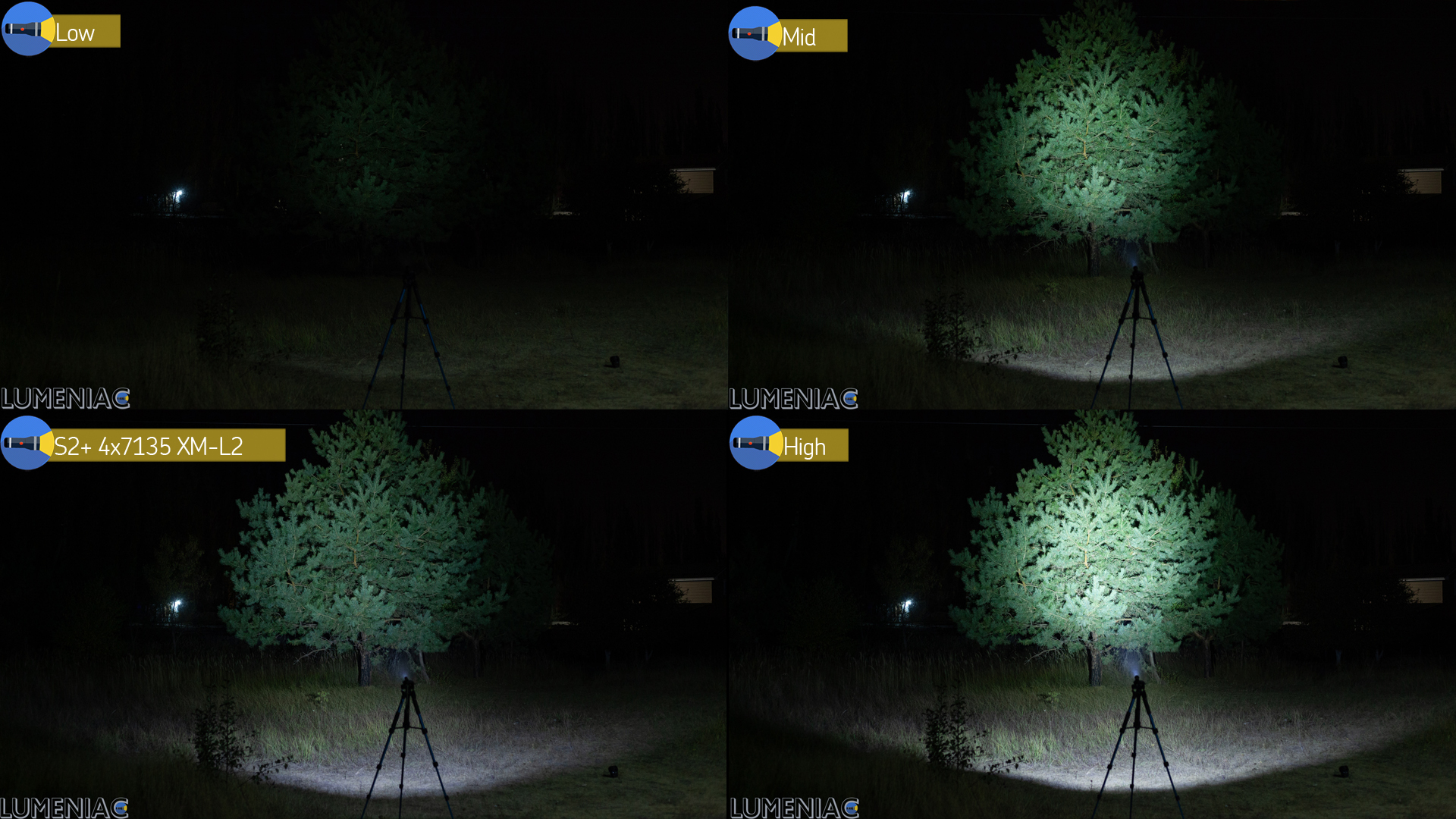 and lets check throw
50m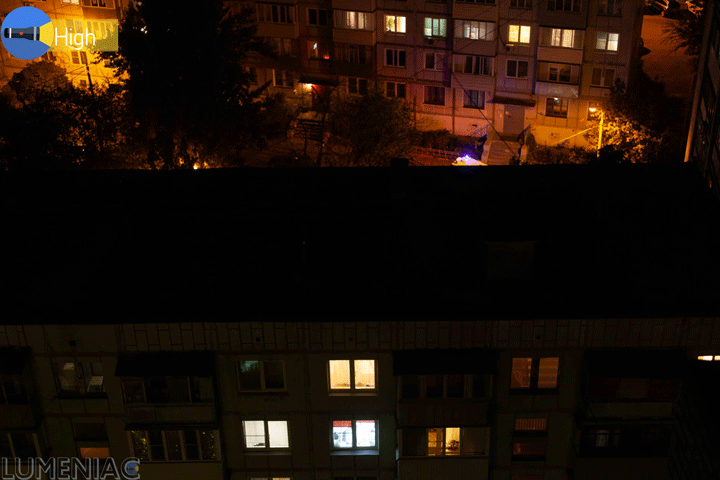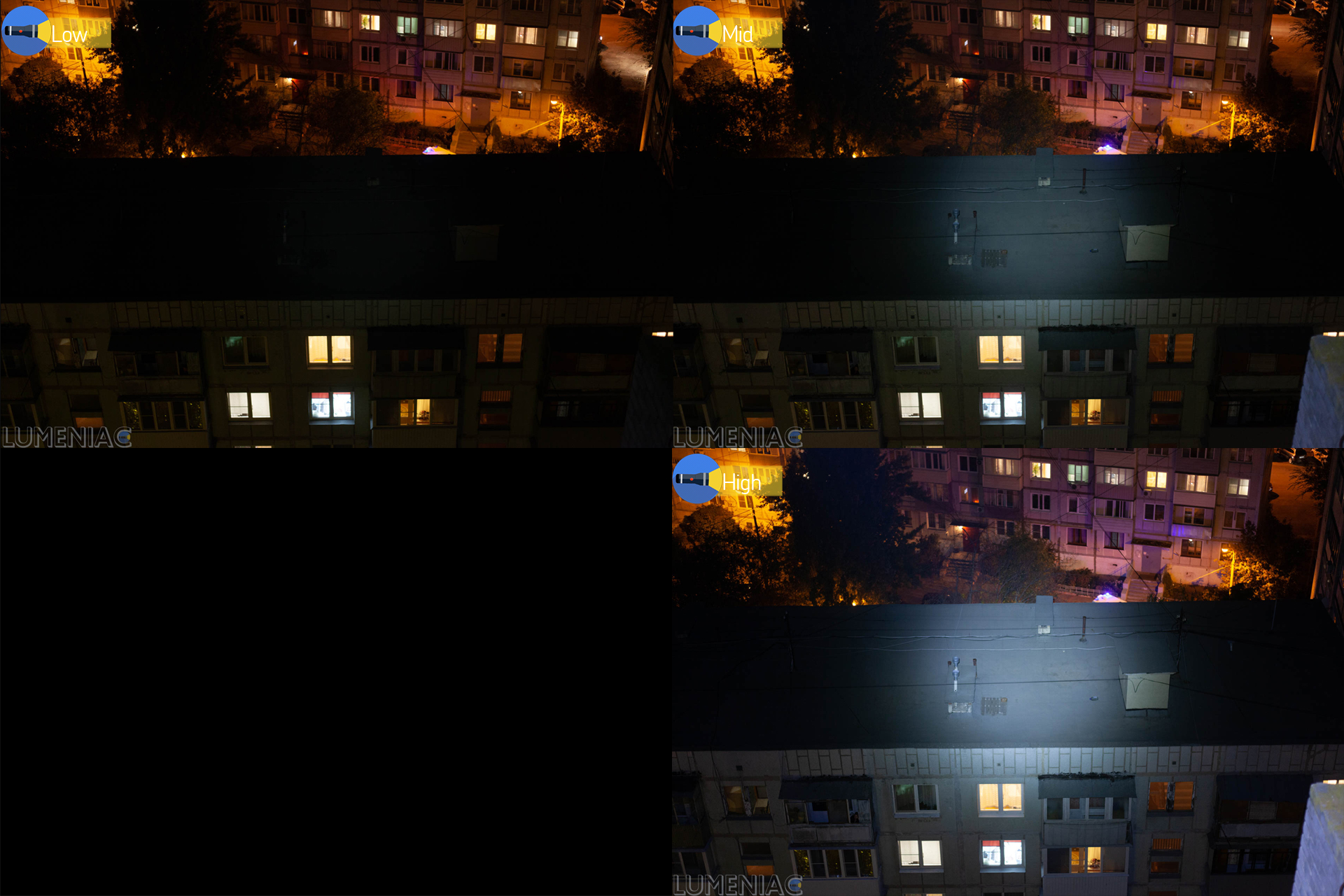 75m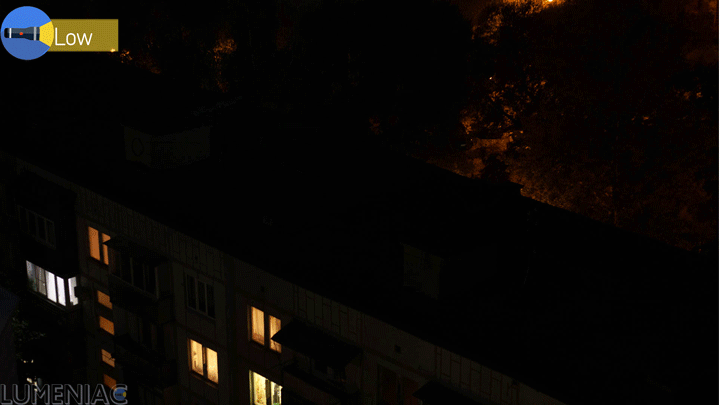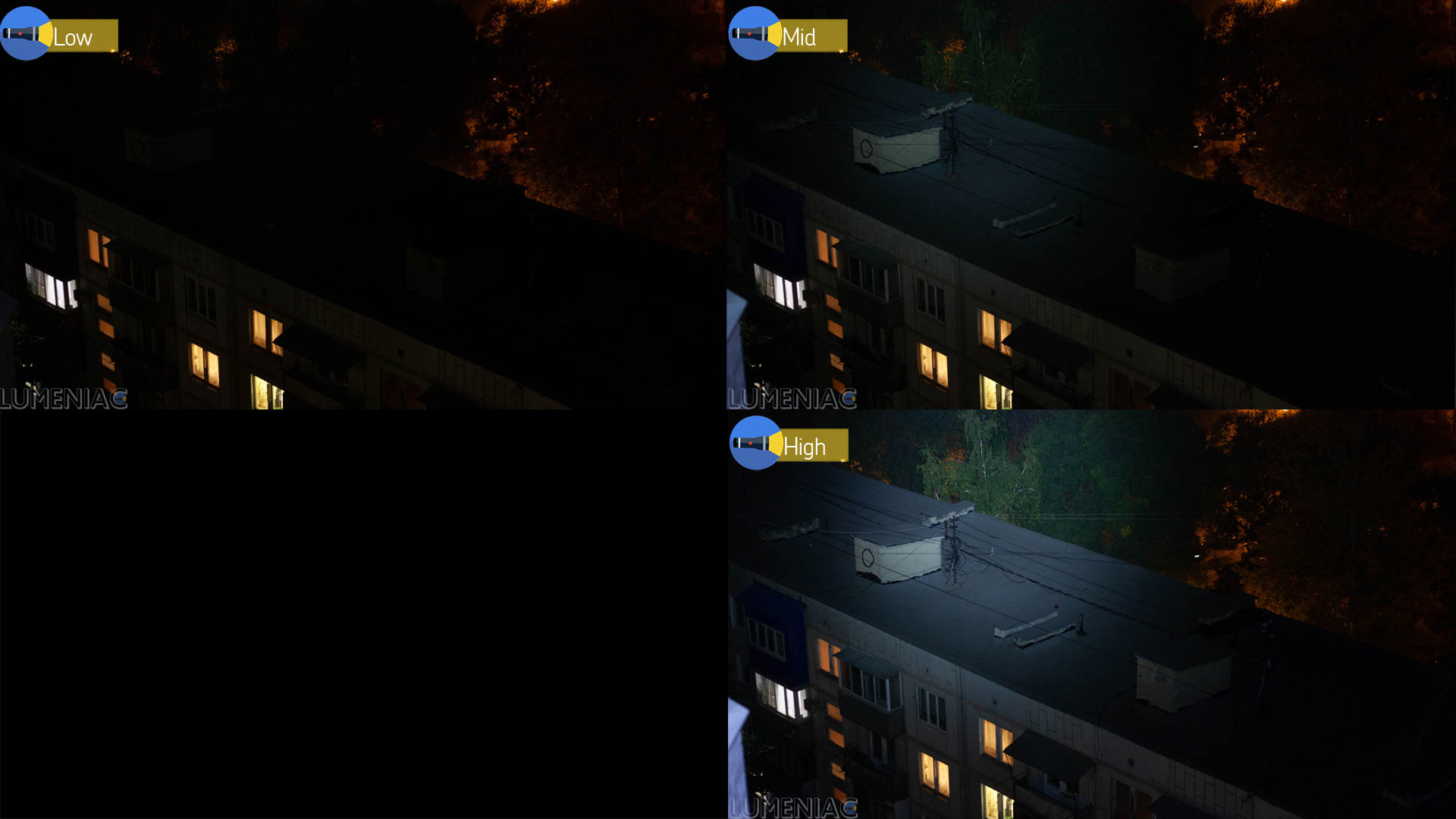 And, video review of Fenix TK11 TAC contains way more examples of how this flashlight works. Subscribe, guys.
OVERALL IMPRESSION

​
Fenix ​​TK11 TAC is, in my opinion, a sort of model that Fenix ​​fans will like. This is confirmed by the mass of good feedback from fenixstore. As usual, the manufacturer made a flashlight for those who need 3-4 modes with the simplest UI.
Mechanical mode switch ring is a key feature of this model. In fact, it proved to be quite a convenient. If not for access to the usual daily mode with its 3 brightness, then certainly for the convenience of the tactical mode. And the button lock is also useful.
I dont like that MID is not stabilized here, but i must mention that High is awesome long as is, and even longer with some cooling. And for me, personally, this is real advantage of TK11 TAC, no less then this mode switching ring.
So, if simplicity and reliability are at the forefront for you, then these are two characteristics that determine in general everything that Fenix ​​does. With TK11 TAC you get relatively compact tactical flashlight with seriouls brightness and unbelievable runtime in maximum brigtness, with a minimum set of modes and a mechanical switch between two groups of modes: 3-level everyday or assault reduced to a turbo strobe. Again, i would be surprised if any competitors of TK11 TAC can show such long runtime in maximum brightness.
The downside of all this is the lack of full stabilization, complete battery and some ECO mode. Built-in charging is matter of choice, especially for tactical flashlights,so i will not count it here. UI is flexible by Fenix standards, with instant access to HIGH and, if you get used to turning TK11 TAC in minimum brightness, then instant access to LOW.
Last edited: