Well-known member
CPF Supporter
Joined

Aug 9, 2015
Messages

14,570
Location
I hope this is a good place for this or that there isn't a thermos thread elsewhere.
I wanted to brag on the Stanley stainless 25oz (750ml) thermos. I have been using a thermos since the days if you dropped it you heard rattling sounds from the broken glass liner. Coleman, Alladin, Thermos brand. I'd fill it with hot coffee and feel warmth a few minutes later. When stored in cold environments some absolutely sucked. I mean an hour later my coffee was cold. If stored in the sun an hour later my cold beverage would be hot. Even when 'pre-treated' with hot or cold prior to filling it with my daily beverage. Some would do ok but none I had ever used lasted all the work day.
I just got used to a thermos not being very good. Mrs Fixer gave me the Stanley a couple years back (with a company logo she had done up custom). It collected dust mostly, being it was special. But recently I started carrying it to work at night to have a small cup of coffee before driving home to ward off the whoozy drunk driver thing. Sure it held temperature for a few hours so I thought that was nice. But last night I did not drink any coffee and forgot to empty it out this morning. At 6 o'clock I remembered it had some coffee and instead of brewing a whole batch I figured why not just nuke up a little from the thermos in the microwave. Well 24 hours later it was a perfect drinkable temperature.
WOW!!
So two thumbs up for the 25oz Stanley thermos!!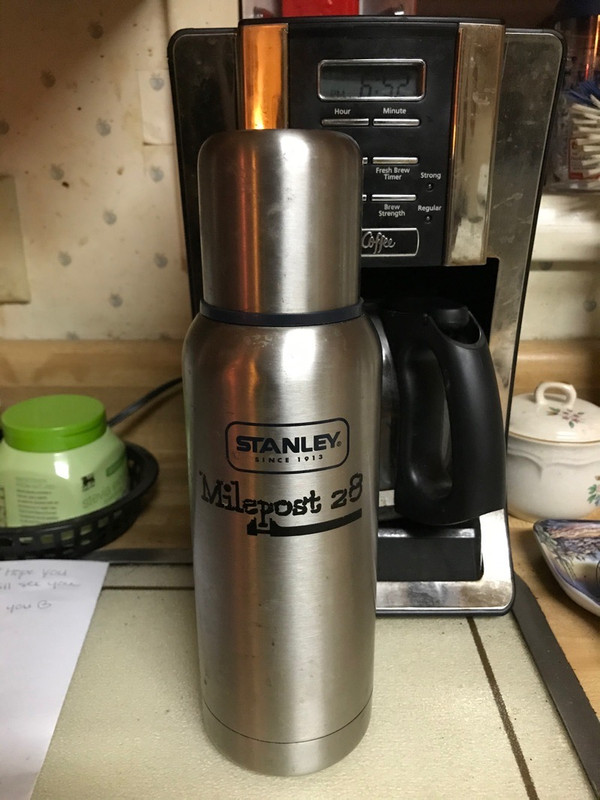 Versus a 12 cup Mr Coffee machine.