Joined

Aug 18, 2019
Messages

127
Elzetta

Who hadn't seen the Yellow Charlie for $300+, I got out my own Charlie and looked at the turn cap and pointy bezel and could just imagine replacing two sets of parts here in a month or so. Instead I go for something Spanish instead....

I thought I saved a bundle buying this from that shoddy supplier only to realise I should have bought what I wanted from those Kentucky boys from the start. I don't even know what gen tail cap I need.

Anyways it starts to rain and I look for a light to use. Something I don't really care about if it gets wet or even damaged. Oh yeah that Elzetta. that light anyways sure it is made in USA and 3 x CR123 which is hard to find nowadays because Inova outsourced and Sure isn't making any at the moment.

I turn it on and am annoyed at how it is brighter than the Surefire 9P I have and has the beam of my Maglite Spectrum. Luckily I can't find a belt pouch for it or I would end up carrying it daily. Streamlight may have them beat there at least with the most pouch options.

Well anyways I go and use it in teh rain and it works. I even see a frog with it. Then I use it again to assist a disabled man get from his vehicle to his residence and once more on to take some trash out.

I guess it is time to put a blue bones and yellow C with accessories on the shopping list.
@letschat7
- I have carried and used my Elzetta far more times than I could count every single day for years, and been through quite a few belt holsters and pouches. I have landed up on a very nice leather one made by L. James Thieman and highly recommend it. Very comfortable to carry, use and draw, and I don't think I'll ever wear it out. The 'canted carry' construction adds a tiny bit of tension to the light once in the holster, due to the curvature of your belt / waist, and it is nice and secure.
Link: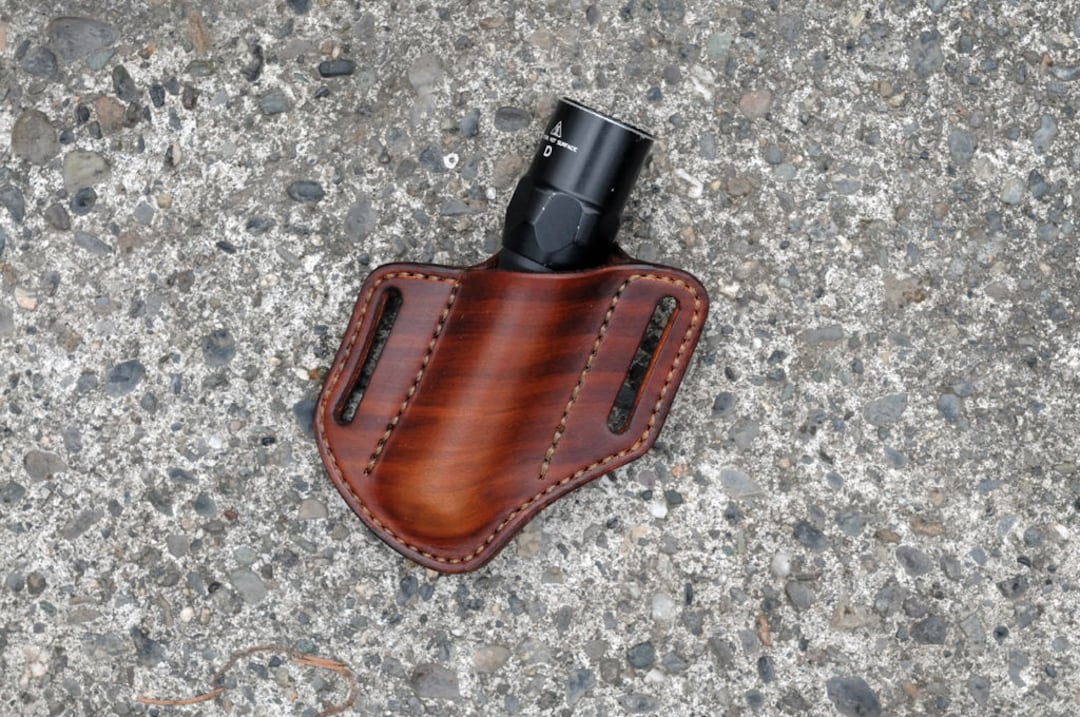 This Holsters item by LJamesThieman has 162 favorites from Etsy shoppers. Ships from United States. Listed on 14 Aug, 2023

www.etsy.com